Before going natural became a thing, all we ever used to see was women in long weaves and silky extensions. With time, we've been able to dismantle the notion that pretty hair is long and full as more women are embracing their natural hairs so much so that most are willing to undergo the big chop just to regrow their curls.
As much as the natural hair movement is seemingly taking over, some still consider the idea of the big chop frightening; they'd much rather put up with brittleness and split ends than opt for a fresh cut to help revitalize and grow out their curls,  however, what they don't know is the big chops are much more interesting than just the usual buzzcuts. Heads don't have to be shaved bald and roots don't have to remain tinted black anymore.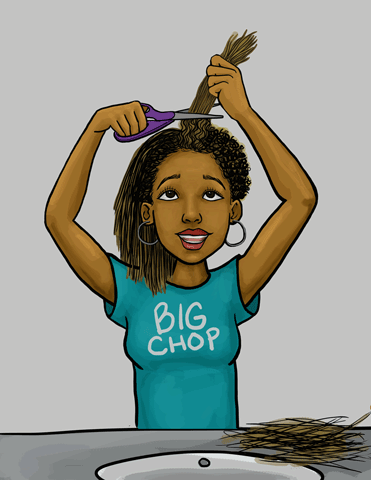 No pressure but if you're one of those with damaged roots or fickle edges, you might want to consider this move. But don't be too quick to the scissors; just before you start your transition journey, there are a few helpful tips you should know;
Be Sure
Do not feel pressured to start your transition journey just because others are doing it and they look cool, make sure that you are sure that it is what you want and that it is convenient for you, as no one tells you that growing healthy natural hair takes a lot of time and dedication.
---
Get Help or Get The Right Tools
Not everyone can do the job themselves. If you happen to fall under that category, then consider getting the help of a professional at the salon. On the other hand, if you are confident that you can do the job yourself, then you need to invest in a great pair of scissors.
---
You Don't Have To Chop It All Off
Doing the big chop doesn't mean you have to take it all off. A slightly heavy trim could do your tips a world of good for those who aren't looking to take it all off. Another plus is there's more styling possibilities. Styles like pixie cuts, finger waves and even addition of extensions will be possible.
---
You'll Need A Shrink
Before you begin to chop your hair off, you'll need some natural hair shrinkage which means you need be needing some conditioner and a spray bottle.
---
Embrace Your Style, Let It Sink In
Before grooming, growth and styling comes this. Own whatever look you choose to rock. Never forget, confidence on it's own is a look, so make sure not to let your big chop impact on your self-esteem.
---
Start Simple
Some prefer to experiment when starting out but remember that the health of your hair is of utmost importance, so feel free to take your time to try simple hairstyles as you develop your hair again. With time, you'll get even more comfortable and find what really works for you. Remember, patience is key.
---
Health First
Let your major focus be on the health of your hair and not the length. Just treat your hair right and stop obsessing over how long it is growing, – you'll be glad you did.
---
Stick To A Routine, Most Importantly, Moisturize
You'll need to decide how frequently you want to wash your hair, in what order you'll want to apply products et al but most importantly, make sure a good moisturizer is always readily available because like it or not, the dryness is about to get real.
---
It Doesn't Have To Be Boring
The TWA can get a little boring so feel free to play it up with colors. PS: Avoid bleach dye and make sure you get it done by a professional to keep your hair healthy.
---
Develop A Natural Hair Advice Filter System
Starting a transition journey means you'll get a lot of advice thrown at you from naturalists and non-naturalists alike that's why you should have a natural hair advice filter system. Just know what works for and stick to it.
---
If you needed some motivation on whether to undergo the big chop or you needed some style inspo for your already cut crown or you're just feeling adventurous and want to try something new, these looks will definitely have you yearning for the big chop.
https://www.instagram.com/p/BaJmEqWhqWK/?taken-by=thecutlife
https://www.instagram.com/p/Bcp_ptWnSlL/?taken-by=officialamilnaestevao
https://www.instagram.com/p/Bc4M5wJBIXY/?taken-by=nancyisimeofficial
https://www.instagram.com/p/BYhERQdnvsq/?taken-by=beautybylee
https://www.instagram.com/p/BbcvAUSlxMT/?taken-by=alissa.ashley
https://www.instagram.com/p/BdB0SD1AiR5/?taken-by=mrs_tahirah
https://www.instagram.com/p/BdUUsYIBCbB/?taken-by=margauxchanel
https://www.instagram.com/p/BdjP1fhn0Xc/?taken-by=ayannatiaraa
https://www.instagram.com/p/BdusG4xB70u/?taken-by=salonchristol
https://www.instagram.com/p/Bdz-agSleY6/?taken-by=hairtrapper_the_barber
https://www.instagram.com/p/BbXjheZlYKK/?taken-by=lootlove2
---
Featured Image: Amilna Estavio by Sharif Hamza for Allure Magazine.