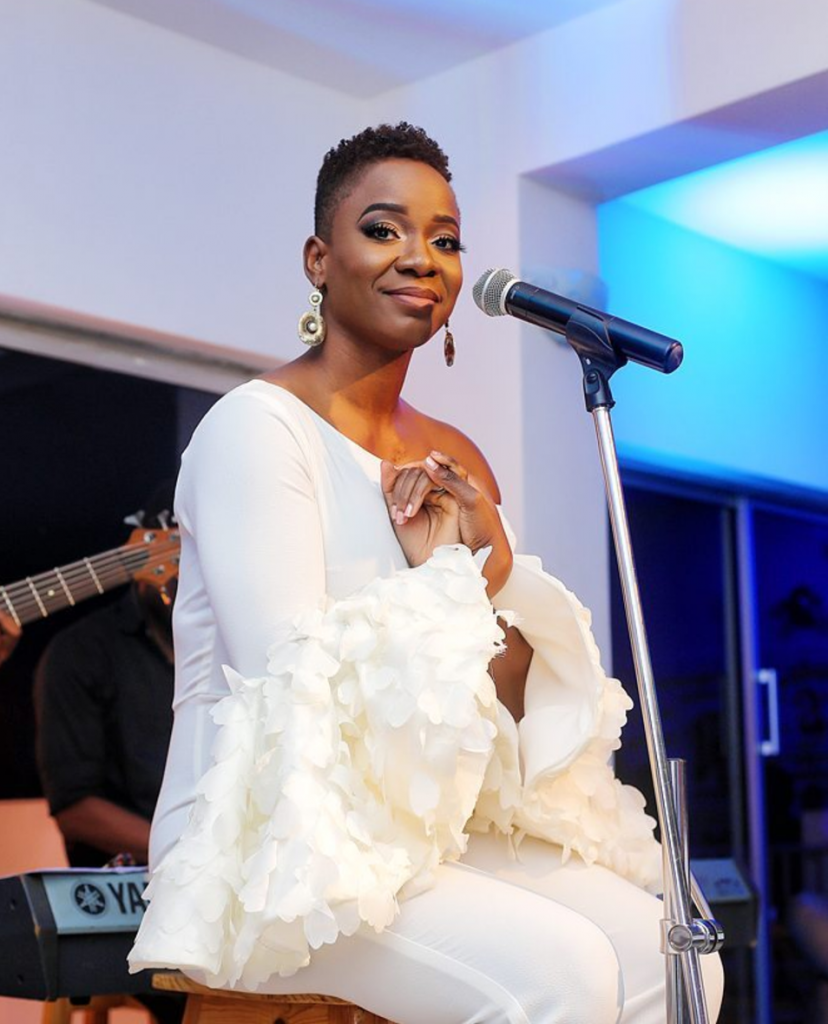 A series of 'amen's' and 'mm hmm's filled the room as Titilope Sonuga spoke words of life to the audience. Her poetry struck cords with both the men and women who listened to her eagerly like the words she was speaking was impacting them, healing them even. You could have easily mistaken her concert for a Church service, as there was a feeling of praise and hope in the room – the kind you feel when you are close to God. Perhaps this is what happens when you allow yourself to be open.
Accompanied by a band and a violinist, Titilope held back nothing as she touched on the beautiful complexities of womanhood, the darkness of depression and the light love brings. Looking around the room, you could not help but be surprised that there are so many lovers of art, of words, of truth. This was not your typical Lagos party crowd; this was a room full of 'woke' people who welcomed Titilope's vulnerability with open arms.
The lineup of performers that shared the 'Open' stage fit perfectly with the essence of the show. From the incomparable Wana Udobang's riveting performance of her poem 'Catfish' to the sweet and soulful sounds of Omolara, to the edgy and always vibrant Falana – the room was thick with talent, individuality and potential.
For one to sit and speak to a room full of people about their inner most secrets and fears must take bravery but Titilope revealed she had not always been brave. She opened up about the time in her life when she was just about ready to quit poetry and go back to her engineering career until she got an email from a woman across the country who said Titilope's poems were the very thing that woke her up in the morning. It was this email, this unwarranted and unexpected show of support for her craft that encouraged her to keep going.
Looking round the full house of guests dressed in all white standing in ovation for Titilope – you are reminded that your dreams will come true if you are brave enough to be open.
---
About Titilope
Titilope is an award winning poet, writer and performer who has graced stages across Nigeria and internationally. She was the winner of the 2011 Canadian Authors' Association Emerging Writer Award for her first collection of poems, Down To Earth. Her spoken word album Mother Tongue was released in 2013 followed by a second collection of poetry, Abscess, in 2014. She is currently the ambassador for Intel's She Will Connect Program across Nigeria. Titilope was the first poet to appear at a Nigerian presidential inauguration ceremony, performing at the May 2015 inauguration of President Muhammadu Buhari. She adds acting to her accomplishments playing "Eki" in the NdaniTV hit television series Gidi Up, which airs across Africa. Her forthcoming collection is titled This is How We Disappear.