Living in Lagos can be…stressful to put it mildly. Between the traffic, the high cost of living and the insanely disorganized public transit system sometimes it feels like the city itself is conspiring against you. But thanks to really smart people and innovation – people are constantly finding ways to make life easier for you. Like, this website we 're about to tell you all about called Road Preppers.
Road Preppers is essentially Google Maps on steroids. It provides a step by step route for commuters in Lagos using the yellow danfo buses complete with fare estimates. This isn't your usual google maps BS – this is bus stop to bus stop directions complete with total costs for each bus.
Don't believe us? We've got proof.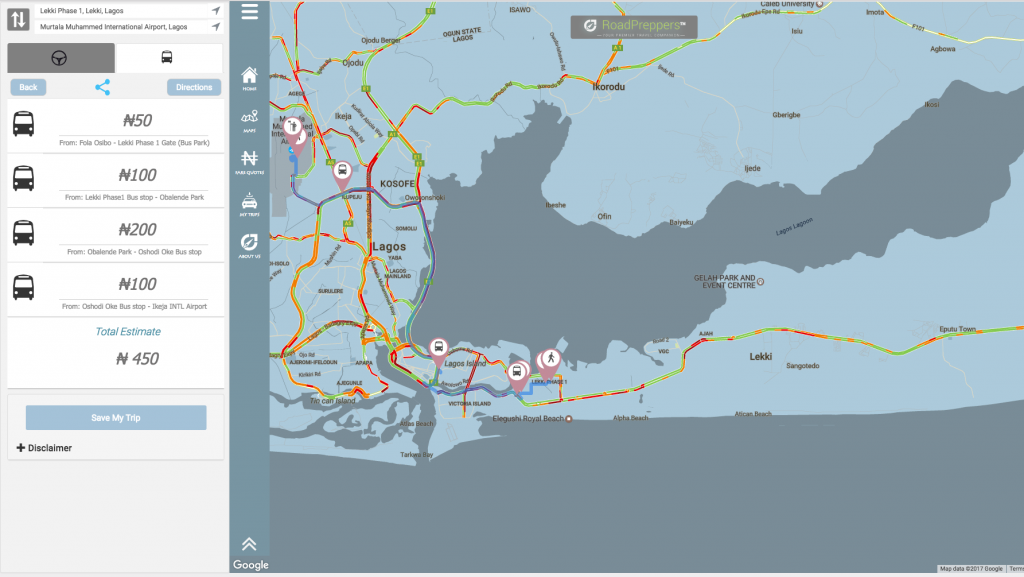 According to the Road Preppers site;
"Getting accurate, clear, descriptive directions that's built in our local content and more, isn't something we particularly can relate with living in Lagos, or other states in Nigeria."
In our opinion, this might be the coolest thing we've seen in a while. Road Preppers is the brainchild of two young Nigerians, Samuel Odeloye  and Nnamdi Nwanzewho. They are passionate about "…Keeping you informed, connected and happy on your trips" and have created this website which according to them, is "a pure labour of love". It really shows especially when you realise just how much work has gone into creating this marvel.

"We fully understand the struggles often associated with knowing the right fare quotes for a trip, when jumping the bus, keke, okada, ferry…. or what have you, to unfamiliar places. The fear of the unknown or being termed a JJC ( Johnny just come) or a Last man carrier. Isn't a cool feeling either. Well…. we've been there! and that's why we created roadpreppers"
What this all means is not only are they very well educated but they are also well equipped and armed with the right tools to make this application as efficient and accurate as possible. According to them, it is "Powered by a robust, strategically crowd sourced database, built by us of over 2,000 bus stops and close to 1,000,000 stop to stop connections. Not to mention, inclusive of the various available modes of transportation and their associated fare quotes".

Featured image by @kosolonwudinjor