Most coffee addicts are grumpy until they have their morning coffee. Fact. Now, add no morning coffee to the crazy Lagos rush hour traffic and you can slowly put yourself in my shoes, the day I walked into 'MY 'COFFEE' for the first time.
Flustered and ready to give up, I had low expectations driving into their narrow parking lot. Another thing about coffee drinkers (fyi), is we don't like change. We are creatures of habit but it just so happened that my usual coffee shop had closed down and I had seen 'My Coffee' on someones snap chat, so I decided to give it a try.
The first thing that struck me was their lovely outdoor seating area with fresh flower pots on the tables. It was very European and I could envision myself sipping on an iced latte, reading a magazine outside – pretending for the moment, I was somewhere other than Lagos.
I walked in to the warmest welcome by staff dressed like elves. Yes, little green elves. They asked me what kind of coffee I would like and if I wanted any pastries. Now, I didn't come for the pastries. I came for the coffee but goodness gracious. They had lemon and chocolate tarts, banana muffins, salmon & cream cheese croissants, turkey & ham panini's, glazed donuts – I died and went to foodie heaven.
Once my coffee was ready, the elves waiters asked me if I would like to sprinkle some love, luck or happiness in my coffee? "Excuse me"? I asked – slightly perplexed. He went on to explain that they offer all their guests sprinkles of good fortune to accompany their coffee. He also urged me to sign their 'wish book' saying that whatever I wrote in there would certainly come true. Even if you're in a bad mood – whose going to say no to a man dressed like an elf asking you if you want some luck? Even the grinch would be like 'yes please'.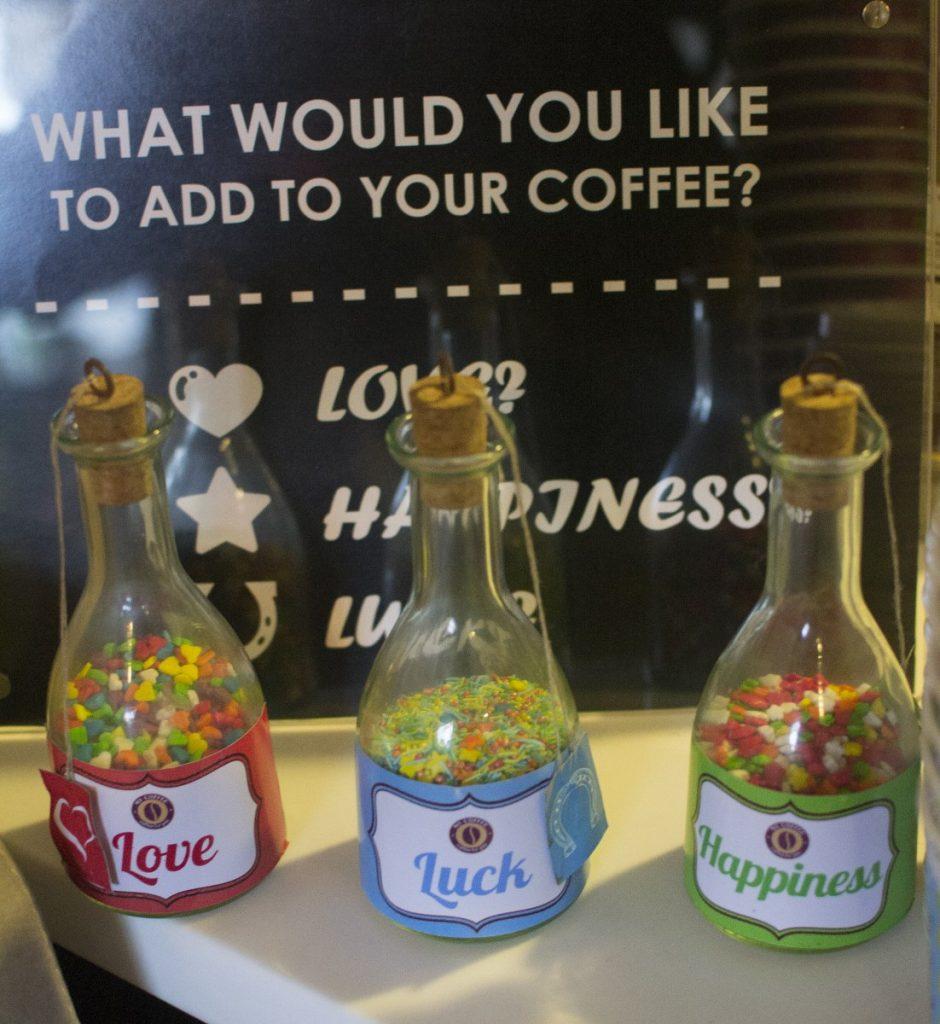 The most impressive thing I would say about My Coffee is their attention the owners (two delightful Ukrainian ladies) have made to making their brand unique.
The space is small but darling with cosy seats and cute coffee signage everywhere you look. They have a wide selection of coffee including speciality drinks like the Raff Cheese Coffee and their Ginger Latte. It's the perfect space for a breakfast meeting, a spot to work from or a place to meet new people because everyone is friendly and you get the feeling like they really like you and want you to stay.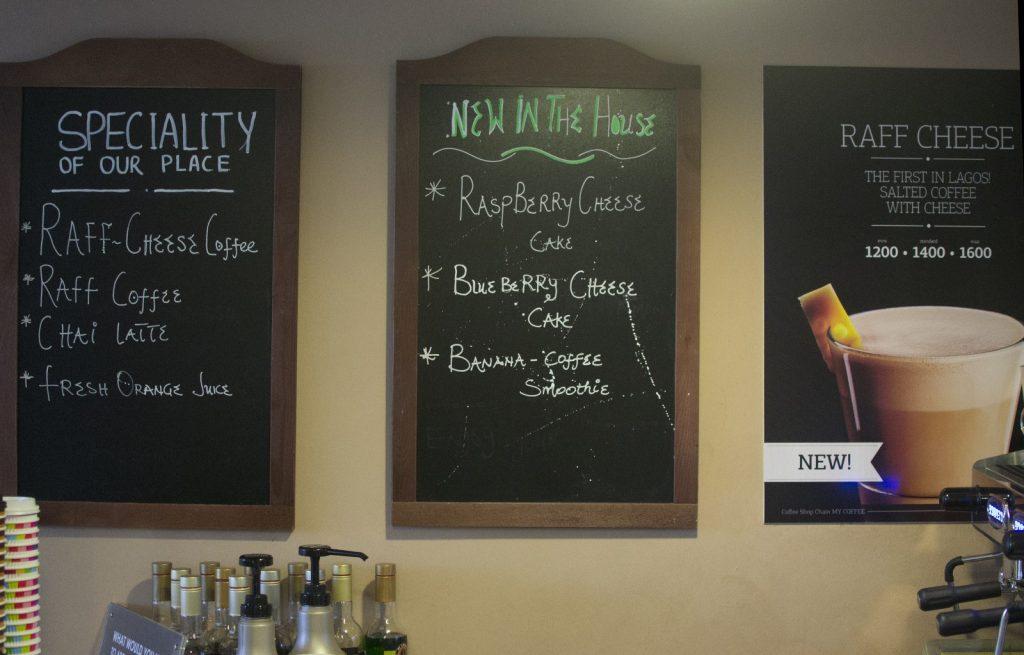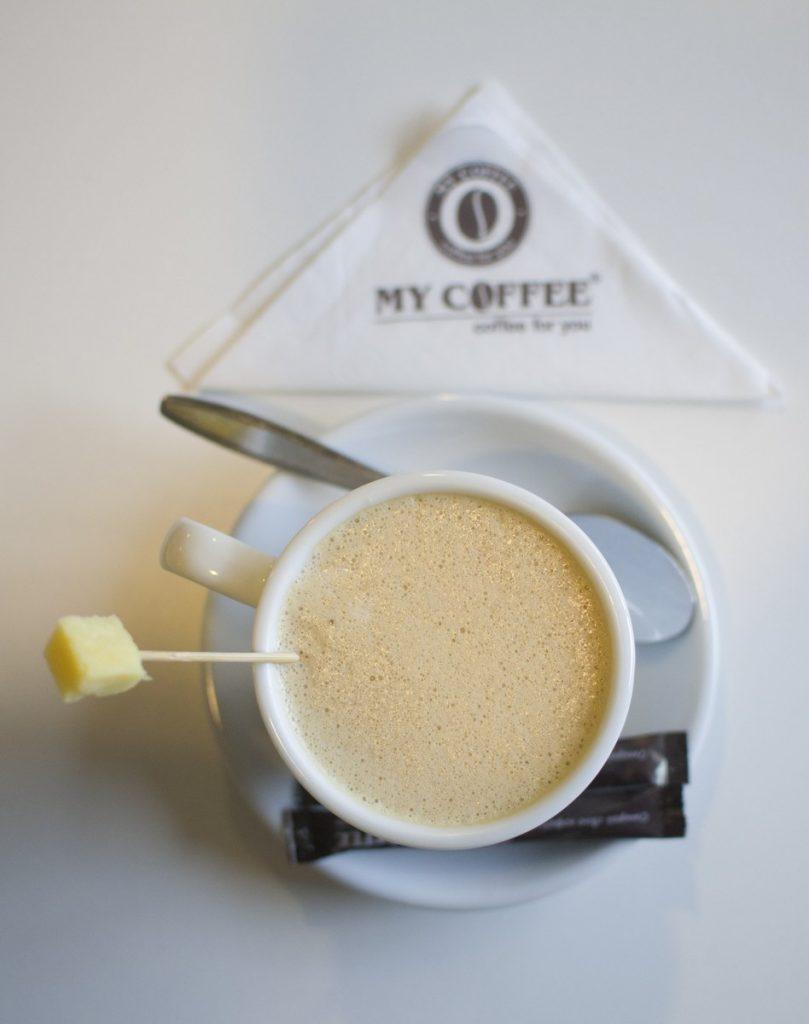 The Raff Cheese Coffee is the first salty coffee in Lagos and in the world. It's a top secret recipe by the My Coffee brand and its one of their top sellers. I wasn't sure what to think – cheese and coffee isn't something you think would go together but it works. The flavors compliment each other perfectly and it's really refreshing.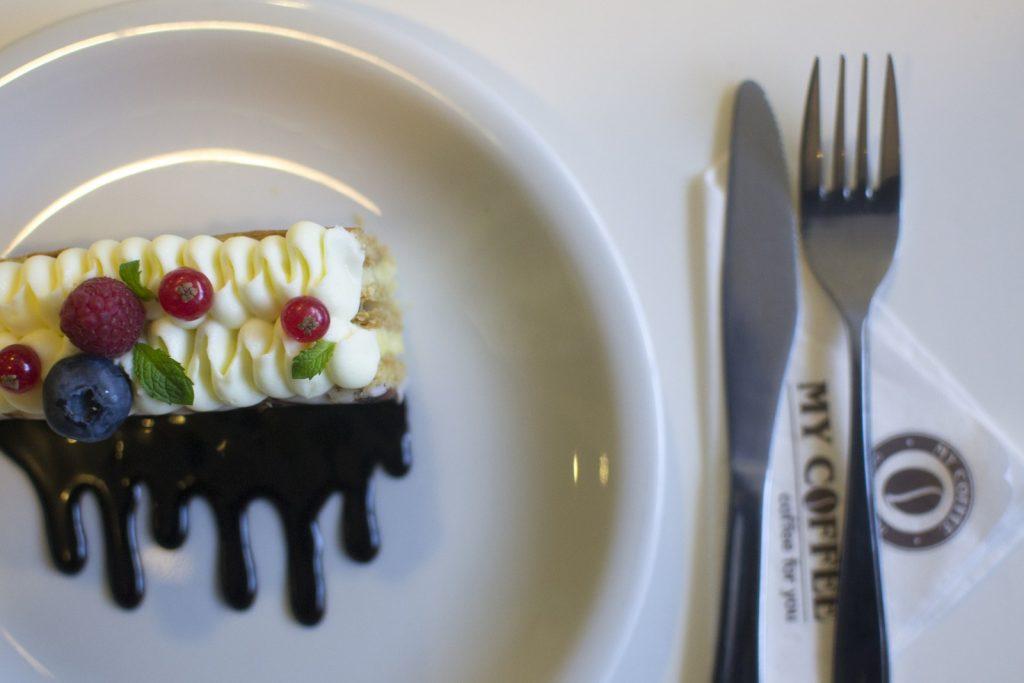 My coffee signature dessert – Miller Feuille. It's a combination of a crunchy pastry topped with light praline cream and it's divine. If you're a sweet tooth, this is a must try.
Needless to say, I'm now a My Coffee regular. The staff are warm and friendly, the coffee is really, really good, the pastries are always fresh (although, I've been opting for the tuna sandwich of late which is yummy too) and last but never least – the wifi is strong.
PS- If you're not a big coffee drinker, they have a good selection of teas and juices. Try: the fresh lemonade with mint – it's a winner.
My Coffee is located at No 40b Adetokunbo Ademola Street, Victoria Island, Lagos. Tell them we sent you!
---
Ndani Lifestyle Photography – Olupitan Olusanya