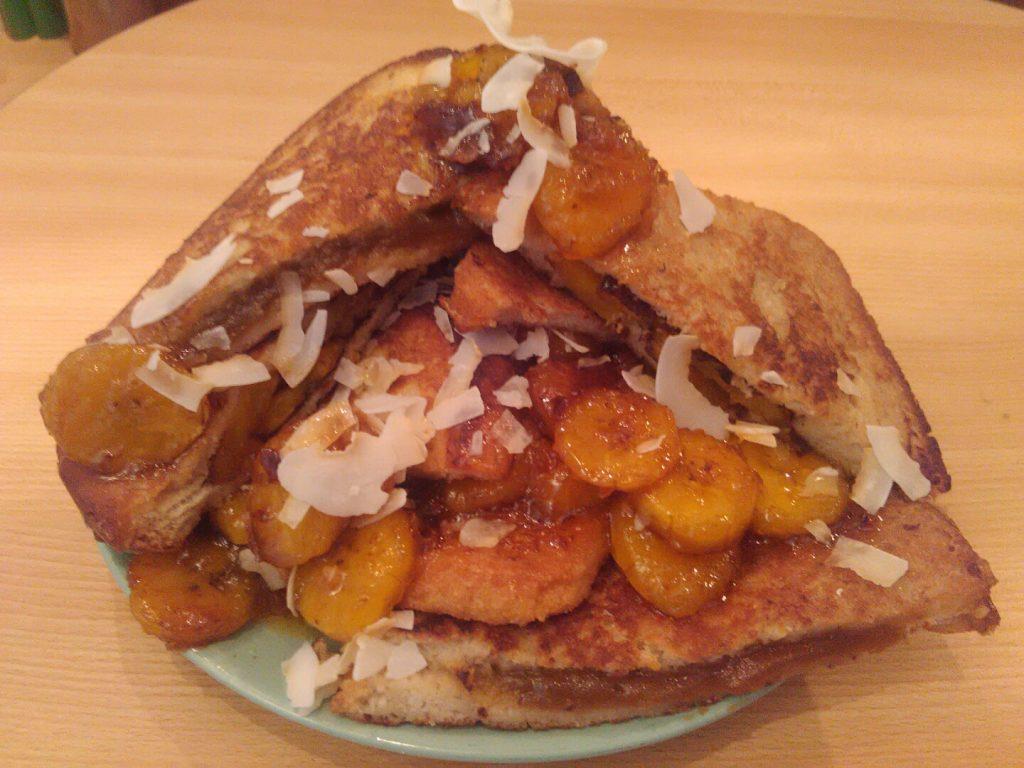 I love brunch any day of the week, but nothing beats brunch on the weekend. Starting the day off with a lazy lie-in, followed by several hours of extensive munching on sweet treats and savory delights, as well as sipping on endless cups of coffee, tea, champagne, bloody marys, mimosas…I digress! Oh yes, French toast. French toast was one of the first recipes my mom taught me growing up, and the scent of warm butter and cinnamon filling up the house still makes me instantly homesick! My version of this brunch classic, incorporates my love for Anything coconutty and the much beloved African plantain, creating a delightfully sinful, soul warming sweet treat!
Ingredients
1 can of coconut milk
half a loaf of stale white bread
5 tablespoons desiccated coconut
4 Eggs
1 cup Sugar
5 tablespoons butter
2 teaspoons cinnamon powder
Pinch of salt
Optional: ice cream
Preparation Method
Peel and slice the plantain into 1/2 inch thick slices, sprinkle over some salt and set aside while you place a frying pan with some oil on the heat.
Fry the plantains with half the sugar and butter in a pan and let it bubble away until the plantains are cooked through and covered in a golden caramel. Add a splash of Malibu if desired, turn off the heat and set aside.
In a large bowl, whisk together the coconut cream, eggs, the rest of the sugar, cinnamon, dessicated coconut and a pinch of salt until well combined.
Heat up a (non stick) frying pan with a drizzle of (coconut) oil on a medium heat, and dip one slice of bread into the coconutty batter.* Make sure both sides are well coated, and be careful not to leave it in too long or your slice of bread will disintegrate into an inedible, soggy, sloppy,  coconutty mess. Let excess batter drip off and place the slice of bread into the hot pan. Let it fry away for about 3 minutes, and resist all temptation of poking, flipping or touching it until the bottom edges of the slice of the bread turn golden brown. With a spatula, carefuly flip the bread and panfry for another 1-2 minutes.
Reheat the caramelized plantain and serve on top of the French toast, alongside a scoop of ice cream for the true gluttons (I chose coconut ice cream, of course!) a sprinkle of some toasted dessicated coconut and your French toast is ready to be gobbled up.
*To impress your brunch mates even more, you can slather some coconut jam, chocolate spread or fried plantain inbetween 2 slices of bread before dipping the sandwich into the batter and frying, to create an even more delicious stuffed coconut French Toast!
[slideshow_deploy id='3737′]