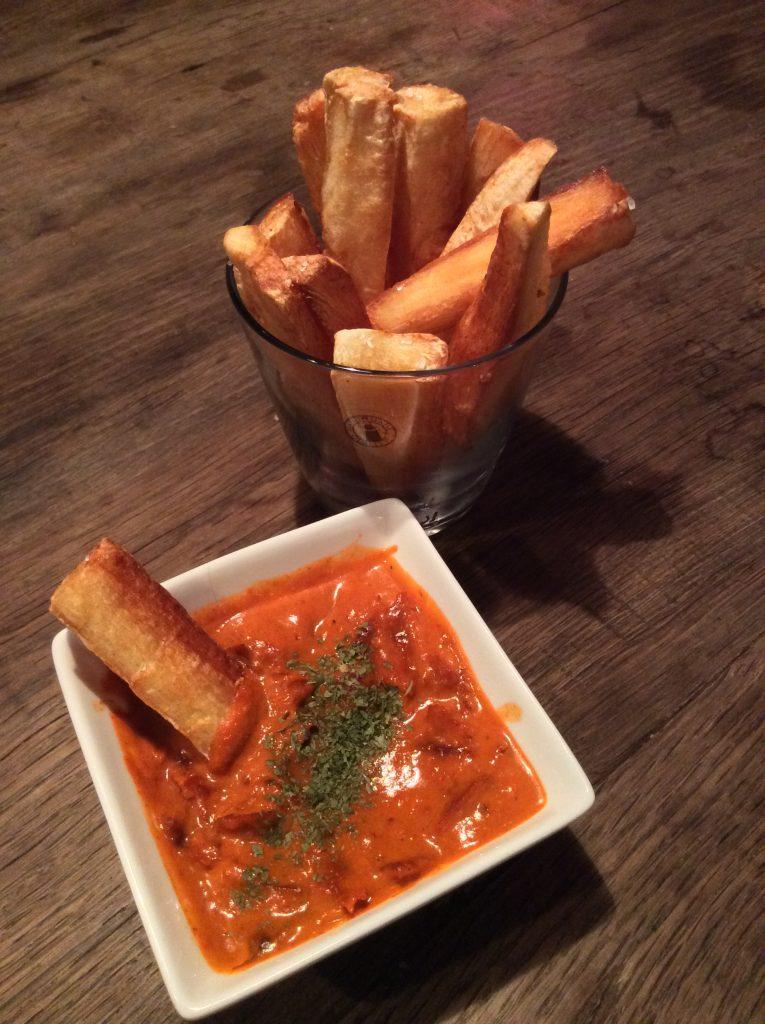 Most days during the week I try to cook up balanced meals, but I'm also a firm believer of indulging in a healthy dose of cheatmeals every now and then. This is my go-to recipe when I have an intense craving for something crunchy, fried and dippable! Although not low on the calorie scale, these salty cassava fries are a great alternative to the regular potato or yam fries. Paired with my quick and spicy kilishi ketchup to dip the crunchy chips in, this is a cheatmeal you wont regret. Oh and for those of you who may declare me mad by cooking with Kilishi…trust me, you have to try it!
Ingredients 
Cassava (peeled, parboiled, and sliced in thick fries)
Kilishi
(+water, salt & pepper, oil for frying)
Preparation Method

Firstly make the kilishi ketchup. Tear or cut up the kilishi into smaller bitesize pieces and add to a sauce pan with enough water to cover the meat. Over a low to medium heat, bring the water a boil, and let it simmer until a thick saucy consistency is formed and the kilishi has softened. Feel free to add more water if the sauce is too thick and the kilishi is not yet softened.
Secondly make the fries. (I like to freeze the fries after parboiling them, to make them extra crunchy. This is also an excellent way to always have several batches of fries in the freezer, ready to be fried off when cravings hit!) Heat up an inch of oil in a heavy bottomed pot or turn on your deep fryer to 180C. Fry off the chips until golden brown on all sides.
Drain the chips on a wirerack lined with kitchen paper, and sprinkle with salt. Serve the chips with a bowl of kilishi ketchup and enjoy!
[slideshow_deploy id='5685′]