Having been to Cape Town and heard a lot about its slightly older slightly, grungier slightly more bad ass sister – Johannesburg, (but if  you're down with the kids like me, it's Jozi), I decided I had to check it out for myself. Luckily on the weekend of my birthday (A LOT OF) planning met opportunity and I had the chance to explore this beautiful city for 36 hours only. Below is my ideal weekend guide to Johannesburg as a result.
Saturday
9am – 12pm: Neighbourhood's Market Brunch
O.K., so I think pretty much everyone has heard about Neighbourhood's Market in Johannesburg there is one in Cape Town as well. Neighbourhood's is on from 9am to about 3pm and it's essentially a mixed goods market with rooftop seating. On entry and what I would call the ground floor, there are a ton of food kiosks serving everything from tacos, to wings, oysters and bomb desserts including the self-proclaimed 'Best Carrot Cake' ever. Once you've gotten everything thing you want to eat we would recommend, heading upstairs to the rooftop, grabbing a seat and tucking in whilst enjoying the sunshine, there's usually some live music and a good crowd involved. This is a great opportunity to make some new local friends. Once you're done, there are some thrift stores in a warehouse also on the first floor you should explore. Fashion in Johannesburg is definitely what I would classify as hipster, so it's great if you're into all that there's also the opportunity to get some great leather and afro centric pieces at very decent prices also if either of those are more your thing!
1pm – 5pm: Lion Park
 Ever since the 'Jungle Book', I've wanted to play with baby lion cubs cue trip to the Lion Park. The Lion Park is open most days of the year and is about 45 minutes from the centre of Johannesburg, if you're travelling in a group, an Uber is most likely one of the cheapest options. The park generally recommends people visit around sunset, because most predators are nocturnal and superficial or not sunsets in the park are GORGEOUS. There are lots of options for your trip to the Lion Park where you'll be able to see everything from zebras to antelopes and of course lions: you can drive through the park yourself on a self-drive, you can do a guided drive, you can do a night drive, you can walk with the lions or cheetahs, and you can go to cub world and play with the baby lions. Our favourite part was probably the cub interaction though it was is pretty short at 4 minutes per group. It allows you the opportunity to interact with cubs which are under 6 months old under the watchful eyes of their trainers, you can pet them, take photos and ask whatever you like!
6pm – 7pm: Drinks at the Flames Restaurant of the Four Season Westcliff Johannesburg Hotel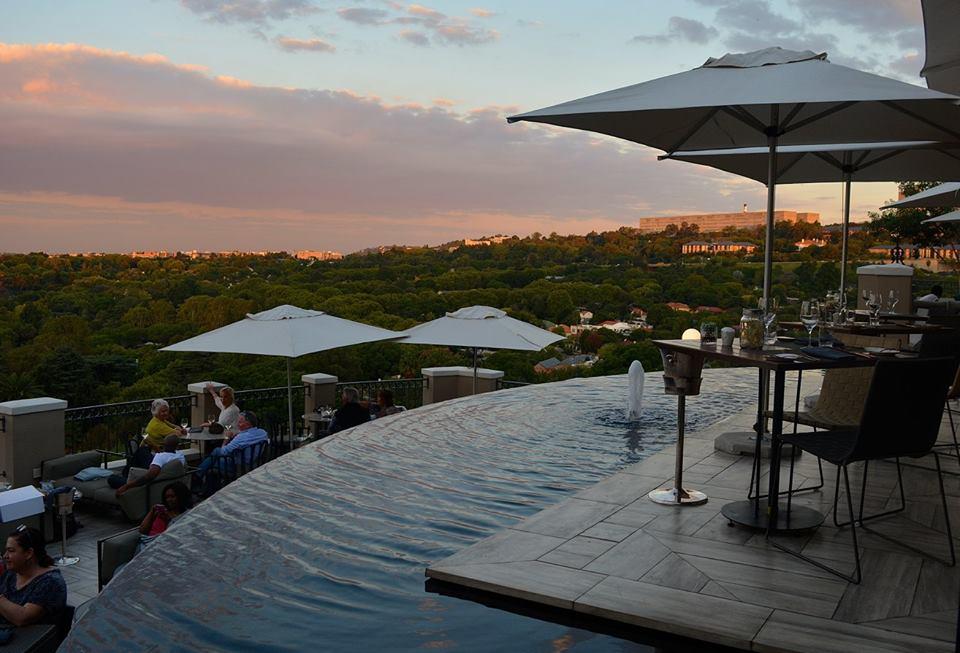 So, spoiler alert, I'm very into aesthetics and once I heard about the views from the Westcliff hotel I had to check it out for myself. I wasn't disappointed. The Four Seasons Westcliff hotel is set in a cliff (I mean come on… right out of James Bond movie, right?), once you arrive at the hotel, you have to take a buggy to a glass elevator, which transports you to the Flames Restaurant where you get a bird's eye view of the whole of luscious green Johannesburg. For dinner, booking in advance is required but if you're just going for drinks it's more of a first come first serve sort of thing with blankets included because even though it's Africa, it still gets cold at night!
8pm – 10pm: Dinner at the Qunu Saxon Hotel/ The Grillhouse Rosebank Johannesburg
O.K. so eek first slight recommendation deviation from the original grand plan. After drinks, we headed home got ready and headed to the Saxon hotel, located in an extremely high end tastefully decorated gated community, the actual hotel is absolutely gorgeous and maybe visiting for lunch would have allow a greater appreciation for the grounds and the private art gallery we never had a chance to check out alas time was not on our side! Inside the Saxon Hotel, we opted for the Qunu Grill located just inside the fig terrace, I had the lamb shoulder and my friends had the seafood platter for two, we did not fall in love with the food sadly and my friends who were in town for longer highly recommended the Grillhouse Rosebank Johannesburg for an insane dining experience for way less money, so I'd probably swap this out if I had the chance for a do over.
10pm – Midnight: Drinks in Melville (Hell's Kitchen)
Melville was my unexpected gem of the day, it's a mini New Orleans with a street full of bars spilling into the streets on balmy summer nights offering an eccentric selection of music for no cover charge. The cool new kid in town? Hell's Kitchen, with provocative signs reminiscent of 'Lights of Soho' reading 'Be Naked When I Get Home' and 'I Just Want You to Be Happy…And Naked', plush leather smoky ruby seating and live rock and roll music on weekends, its reeks of a 1920's speakeasy. With a tattoo parlour next door and a hidden games room thrown into the mix, this is definitely a party starter. Drinks recommendations? Anything with Jameson in it, they've perfected!
Sunday
 9am – 1pm: Apartheid Museum & Gold Reef City
The Apartheid Museum in one word, jarring. I'm a bit of a speedy González in museums but this one is definitely worth a good two or three hours of uninterrupted experiential viewing in order to gain a fuller appreciation of where South Africa has been and where it's looking to go. The history of apartheid in South Africa is unique, powerful and oh so fresh, located in the heart of Soweto a relatively lower income area, this stark building with its mixed media portrayals of the evolution of this southern African country is a must see on any trip to Johannesburg. If you're feeling a bit down afterwards, Gold Reef city has a first rate amusement park located right next door worth exploring if only for the views from the top of the Ferris wheel.
1pm – 4pm: Arts on Main with Lunch at Canteen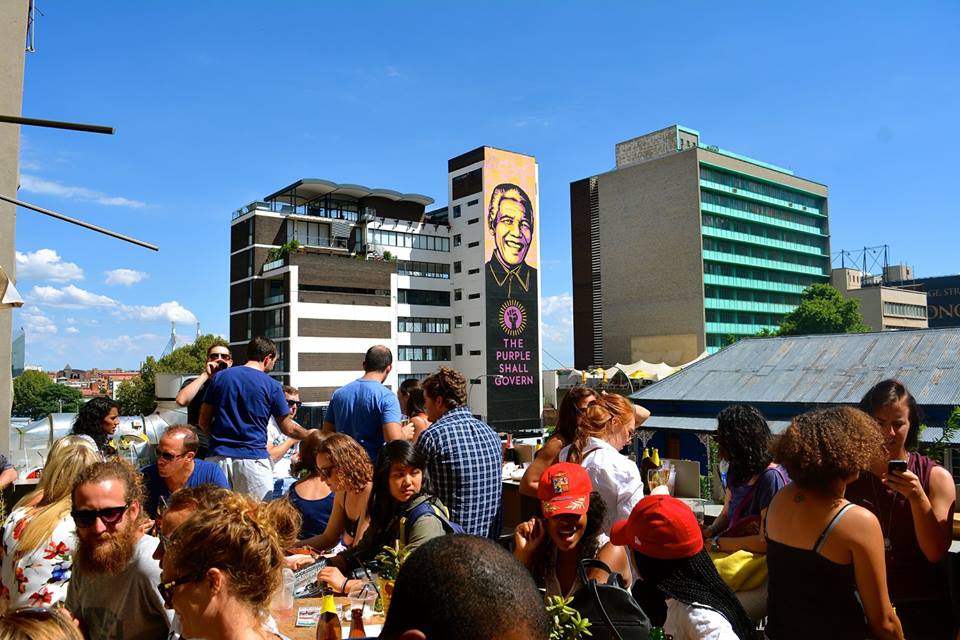 Arts on Main on a Sunday – trumped Neighbourgood's on a Saturday for me hands down, it's bigger and more quality selections in terms of arts and crafts, photography and clothing. The neighbourhood surrounding it also had more character in my opinion with painted murals of political figures and a very authentic mini Notting Hill Carnival vibe leading up to it. Unfortunately, at this point I had to head to the airport though most of my friends who were staying slightly longer managed to head to Living Room and Poolside, which they thoroughly enjoyed Sundays in South Africa are a big night apparently, who knew? All in all Johannesburg is a definite at least 24 hour stop over on the way to Cape Town for those who are more into Jozi's sun kissed, beach blonde sister if not more…