In the case that you clicked in to read this article out of sheer curiosity as to what GBAM! could possibly mean, I'll have you know that you're well in line.
\GBAM!\ – Literally hitting the nail on the head. GBAM! When everyone in the room expresses agreement! GBAM! When in chorus, we affirm something to be perfect! When we are all in synergy. An emotional outburst of agreement over beauty, perfection, congruity, and excellence. – says art curator extraordinaire, Sandra Mbanefo Obaigo.
A definition that is as apt as it gets.
Now, if you're a part of the majority who make the peculiarly gross generalization that those born after 1980, a.k.a millennials, are inward and disinterested then GBAM!, a photography exhibition hosted by the Wheatbaker and co-curated by 2 of the leading names in African art space; A Whitespace Creative Agency (AWCA) & SMO contemporary Art, will definitely change your mind.
Ahead of its official opening today, the 9th of June, The Wheat Baker, an avid supporter of contemporary African arts, opened its doors to members of the press for a preview of a one of a kind exhibition and I got to see just what exactly had been brought to the table.
The Wheatbaker alongside SMO & AWCA who are well known for their consistent efforts to promote a diverse set of African perspectives from around Africa carefully selected 6 leading Nigerian millennials namely: Daniel Obasi, Kadara Enyeasi, Kola Oshalusi, Lex Ash, Noma Osula & Ola Ebiti. If you're wondering "Why These Artists?" or "What Do These Artists Share in Common?" The answer is simple- Photography & Fashion.
With a theme that reads: "Unearthing & Reclaiming A New Be-Come-Ing", GBAM! sees 25 riveting photographs which apart from being just eye-catchers, are actual conversation starters. These bold, new-generation photographers sift through the rich fashion, culture, traditions, narratives and symbols of Nigeria to challenge the aesthetic identity allowing for a renewed understanding of perfection from a millennial standpoint.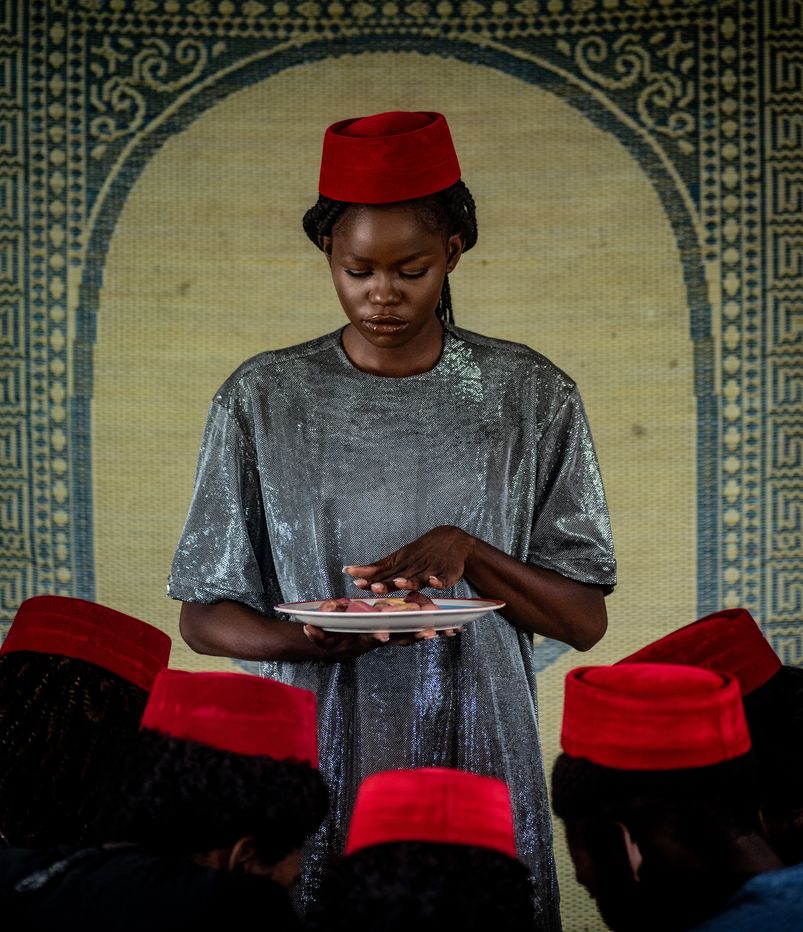 As you make your way into the WheatBaker. a photograph of a red cap woman chief, hand over kola nuts will greet you. Beside it, hangs a photograph of lady in an obvious state of melancholy, sitting on the floor with her hair being made. These images which will most likely stop you in your tracks, are courtesy of fashion photographer, Lex Ash who emphatically refers to himself using one of the hottest hot-words of our time- Millennial. An ardent feminist, Lex Ash's images play strongly on power, authority, and equality vis-à-vis age old tradition and spirituality, thus questioning the status quo. The red cap chieftess among his other photographs on display, really buttresses his message being that the tradition of prayer over the kola nut is reserved for men, in the council of traditional red cap chiefs. By re-imagining a woman in that position, Lex has flipped the narrative we're all used to.
"Even if a woman was the oldest person in the room at the time, it is the responsibility of the oldest man… to bless the Oji….women came after men in every scenario, whether it was with Oji or [being] allowed to be in the council of red cap chiefs…Gbam! indicates a sign of agreement, perfection and concurrence. Considering the push towards gender equality, my take is to redefine what perfection and agreement really means to the tune of what modernization has done to improve the social standing and  general appreciation of women in our society." – Lex Ash.
There's Noma Osula whose powerful portraits of perfectly chiseled tribal marks (scarifications which are specific identification and beautification marks designed on the face or body)  across his subject's striking Bantu features are juxtaposed against fine pink fabric, whimsically wound around a stout physical presence. Osula' explores traditional scarification and our concept of beauty and traditional symbolism against the interplay of striking whimsical adornment. For those who grew up in Nigeria, we know that those who had/have were and still are very likely to be teased but Noma's projects a his subject is unabashedly sees his scarifications as a thing of pride. This work sees a defiant posturing of modern times, proving that beauty has more than just one face – not just what is seen on Instagram.
"Laugh ke? Why? Nobody dey laugh" Mr Shola had said when asked if he was mocked
for having tribal marks. This explores the idea of perfection focusing on Mr Shola objecting
to the stereotypical perception of beauty. Mr Shola is portrayed in a state of comfort with
not just his scarification which tells a story about his root but his entirety." – Noma Osula.
Enter Kadara Enyeasi, a self-trained fine art photographer from Lagos, whose body of work explores gender and power by questioning traditional stereotypes. Enyeasi's perspective on gender dynamics and body politics can best be described as alternative. In his bid to question traditional stereotypes, we found that his images remind us of hawkers weaving in and out of grid-lock traffic; often faceless and voiceless, dis-empowered youth who look at their reflection hoping to find a new reality of opportunity. Enyeasi's brilliant use of color, light and shadow in highly stylized poses, go on to reflect beauty in the face of inequality.
"I picked up references to religion, culture and also the male gaze…. My main focus was to re-address what it means to be a man in this century."- Kadara Enyeasi.
Its safe to say that Daniel Obasi is an craftsman and fashion is his tool. Using traditional beads, hairstyles,fabric and ornaments to "deconstruct traditional regalia" against stark background, Daniel Obasi introduces us to a new "aesthetic for tomorrow". Making use of "A Contemporary Dream", Daniel juxtaposes history and tradition with the current norms, aesthetics and fashion.
"There is an awakening, a resurgence of curiosity and a hunger in the fashion world for a true and more profound understanding of what is traditional and authentically Nigerian; and a desire to recreate a new aesthetic for tomorrow." – Daniel Obasi
Ola Ebiti for his part, draws inspiration from the traditional Yoruba agbada and creates a new fashion vocabulary in which he uses traditional beads and silver and crystal patterns to question our traditional concepts of perfection. On the other hand, Kola Oshalusi's documentary depiction of youth in Northern Nigeria present an emotional
naiveté, a clustering of untainted stillness and repose within an arid, harsh landscape. His powerful black and
white images present a lyrical expose of young adults, always in clusters, facing forward with resilience despite
their stark surroundings.
The most interesting thing about GBAM! is that it isn't your typical art exhibition. GBAM! positions fashion photography as more than just a form of art. It presents fashion photography a defining factor for culture, as a vice used for socio-economic critique thus questioning what already is- norms and traditions, identity, equality and expectations. GBAM! is all the proof you need to know that Millennials are acutely aware of what is happening around them and are in their own little symbolic ways, challenging the status quo.
"GBAM! showcases the exciting diversity of images currently being created by a new generation of Nigerian visual artists. The works are fluid, referential, charged with self-reflection and steeped in the narrative andcontradictions of modern contemporary African identity and style." – Papa Omotayo, Founder AWCA, Co-Curator, GBAM!
GBAM! runs from June 9 th to September 15 th , 2018 and is supported by Louis Guntrum Wines and the Wheatbaker.