Scotch eggs are one of those yummy snacks you pick up on the go. You probably don't even know what their made of, you just know they taste really good. Well, if you ever wondered – scotch eggs are hard boiled eggs wrapped in sausage meat, coated in bread crumbs and baked or deep friend. Yeah, we're licking our lips too.
Another thing you probably didn't know about scotch eggs is the fact that are deceptively easy to make. It also feels way more rewarding when you make it yourself!
So, if you're feeling like you want to experiment a little bit – this recipe is perfect for you. Scotch eggs are great for a simple snack on the go or as a packed lunch to work. Scotch egg salad anyone? Trust us, it's divine.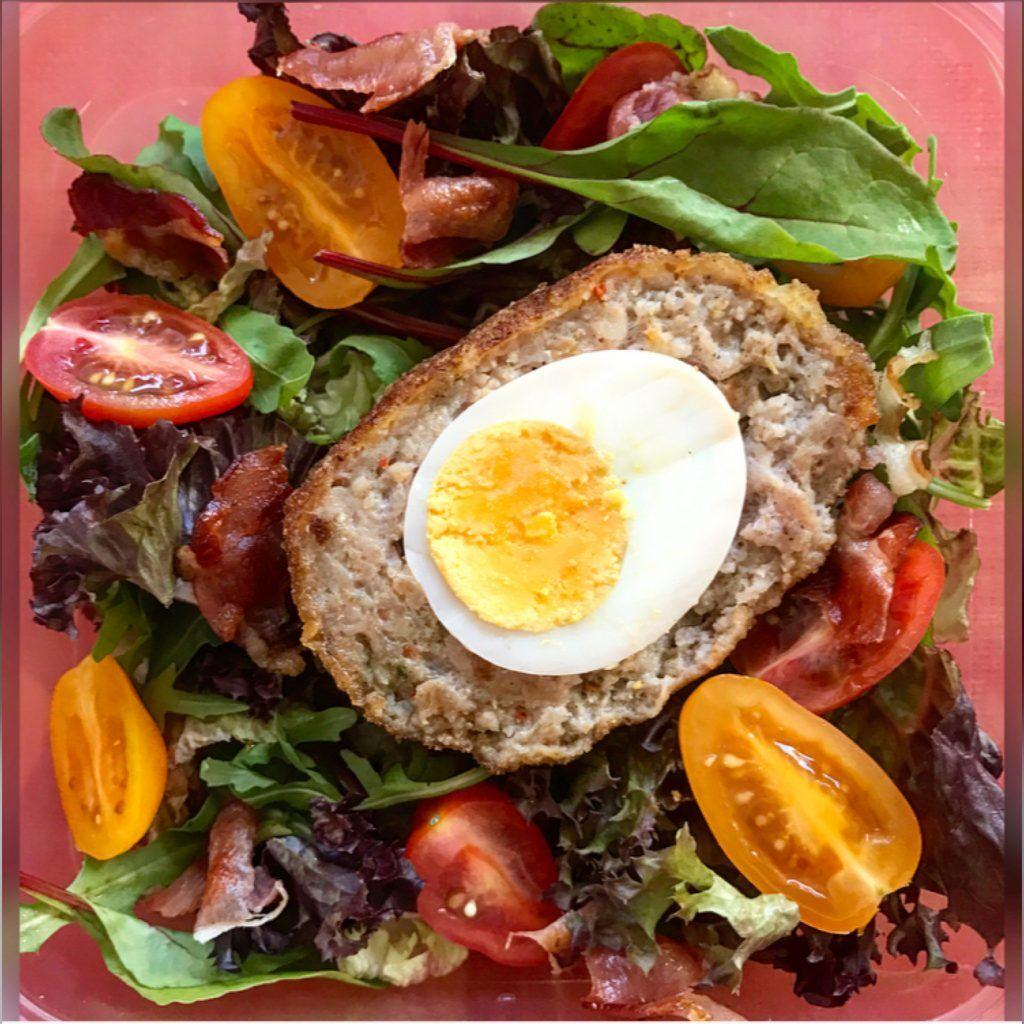 Ingredients
4  eggs
275g sausage meat (or seasoned minced meat)
1 tsp fresh thyme
1 tbsp chopped fresh parsley
1 spring onion (finely chopped)
salt and freshly ground black pepper
125g plain flour
1 egg (beaten)
125g breadcrumbs
vegetable oil (for frying)
Preparation Method:
Boil the eggs to your personal preference. I like my egg yolks runny so I boil them for 5-7 minutes. If you prefer them hard boiled, go for 8-10 minutes.
Take the sausage meat out of the casings and add the herbs and spices and mix well. Once mixed thoroughly, divide the sausage mixture into 4 even balls. One by one, flatten out one of the balls into the palm of your hand and place the egg on top, encasing it with the sausage meat. Gently fold the meat around the egg until it is fully covered. Repeat with the other 3 eggs.
Once all the eggs are wrapped in sausage meat, dust the eggs in flour before rolling them in the beaten egg and then covering them in breadcrumbs.
Heat the oil in a deep pan, and fry the scotch eggs for about 8-10 minutes until beautifully golden brown and crispy on all sides. Serve with a simple salad for a satisfying lunch or dinner!