The woman's power suit has taken many forms over the years from baggy, to tailored, to bright bursts of color. For decades, this trend has been seen as representing power and fearlessness. But according to Nigerian designer, Adey Soile – the power lies in her dresses. Her designs feature mostly work wear – with structured dresses in bold colors and interesting cuts and you get the feeling like she is designing for a boss lady who is about to go pitch for a new business in a boardroom full of men… and win.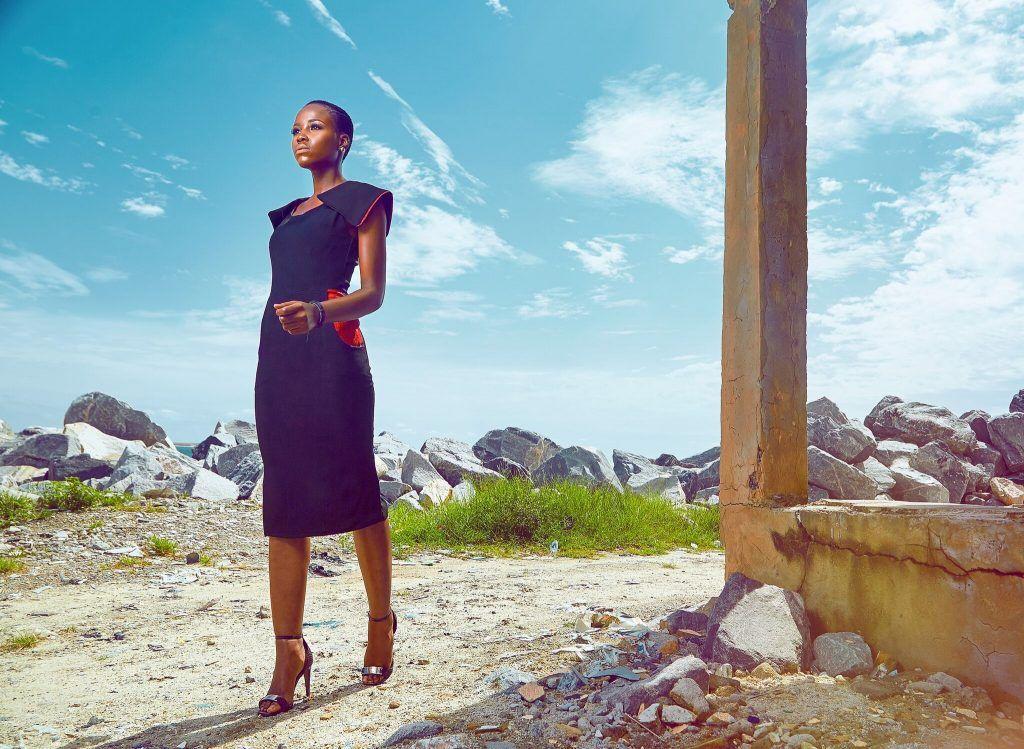 Her latest collection called the 'Dahomey Amazon' features models in the Adey Soile dresses in high heels holding spears, bows and arrows with unapologetic fearless poses. You cannot help but stop and pay attention  to the clothes, but also, to the women – their attitude and at the same time, grace.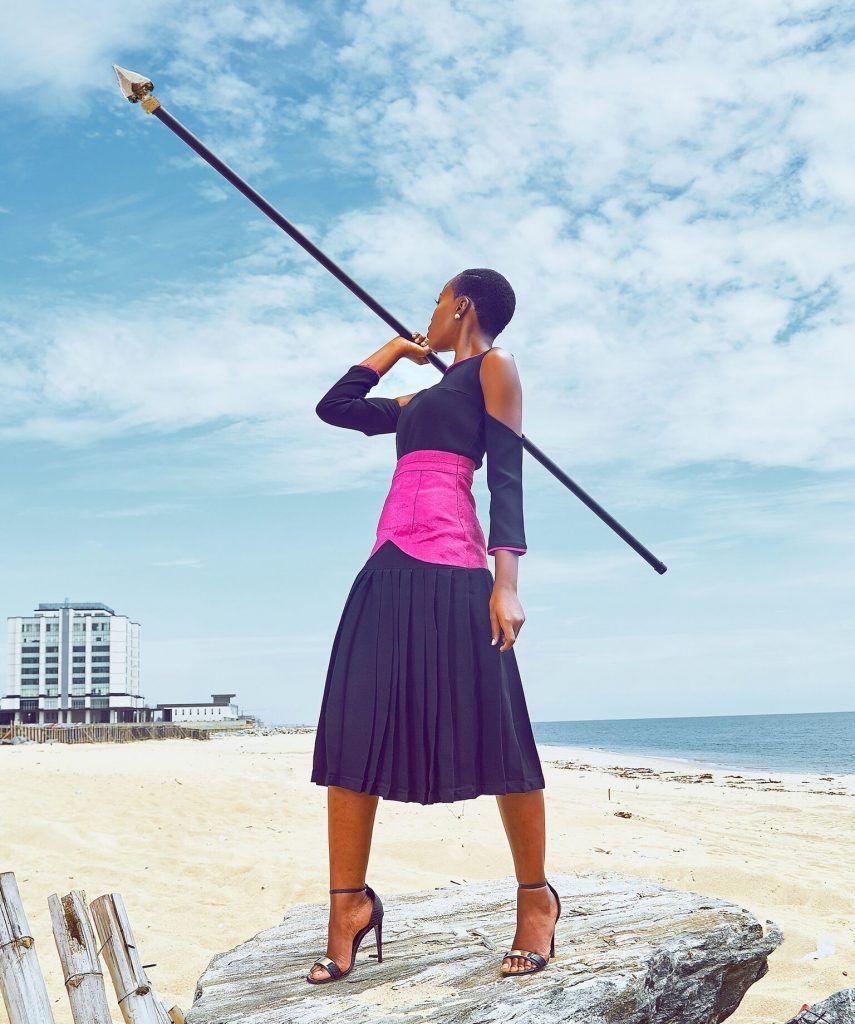 The collection was inspired by the Dahomey Amazons – the only documented front line female troops in modern warfare history. These warriors were from the Kingdom of Dahomey (present day Republic of Benin) and they have been refereed to as the 'most feared women in history'.
In an interview with the designer, we ask her more about these Dahomey women, her transition from working a 9-5 corporate job at a bank to becoming a designer, the challenges she has faced and more.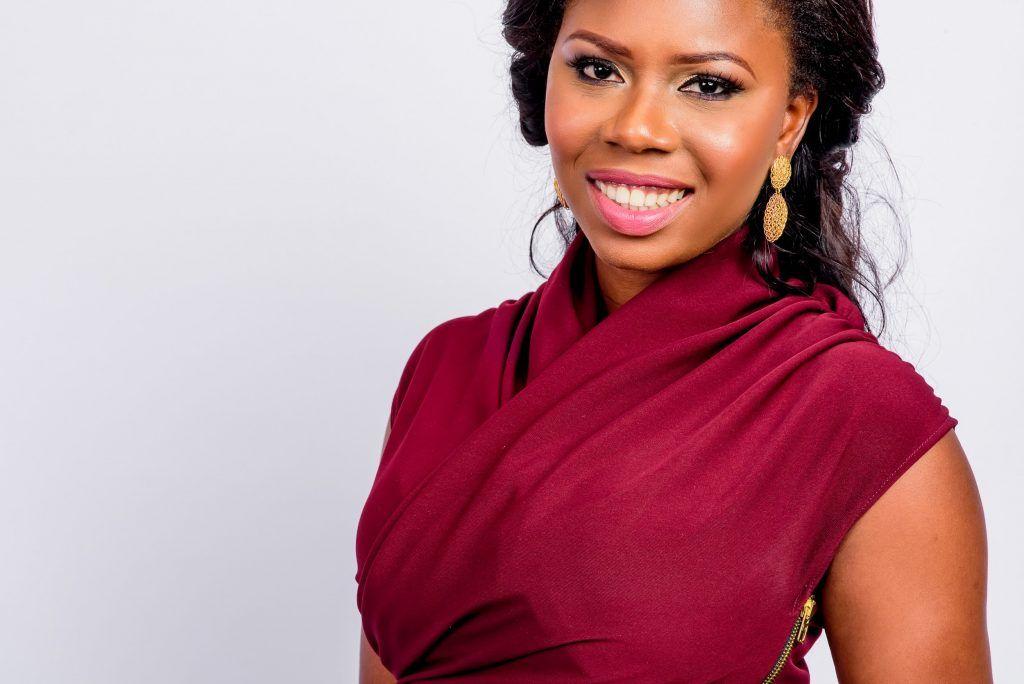 [epq-quote align="align-right"]For me, designing and making clothes isn't only about the clothes, there is also a strong message I try to get across. I am very passionate about empowering women, raising self esteem and making them see all they can be and achieve.[/epq-quote]
Take us through why the Dahomey warrior women inspired your latest collection
When I wanted to design the collection, I started researching and looking for inspiration in strong African women who we could be proud of. In most of the African history books and stories, the heroes are usually men and the women simply cooked and took care of the children. I think this an important role but I also think that women can do more, be more and conquer mountains. I wanted to inspire today's woman because even in those days when women were more restricted and perceived like property, there were some women who fought the status quo and became relevant.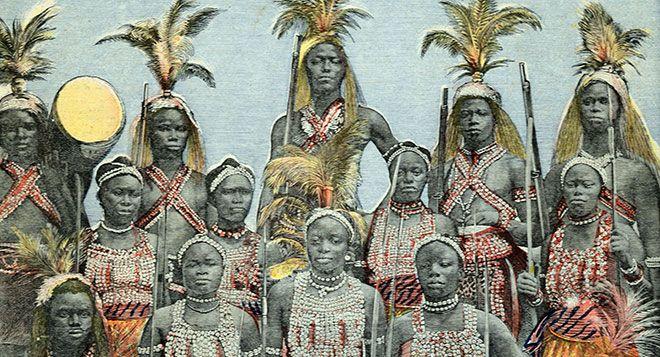 In my research I stumbled upon the story of these amazing women whom I had never heard about. I was quite shocked because these women were amazing and I didn't understand why we weren't taught about them in school. Their story resonated with me and even though we are not physically fighting in the jungle, we are still fighting everyday to be better, get promoted, be relevant and their attitude towards training, and not giving up is something I believe we can all learn from. These are qualities of the Adey Woman which is why pieces in the collection where named after some of my clients.
Tell us a little bit about your journey to becoming a designer
As a child, fashion in general really interested me because my mom was quite the dresser. She was not afraid to play with colour and style – even to work she would wear a daring red suit! As I grew older, I actually didn't think that being a designer and having a clothing brand could be a career option because everyone in my family is either in the financial or medical industry, so a standard career was the line towed. I studied Psychology and Political Science; and went on to do an MSc in Human Resource Management. In retrospect, my life would have been a lot easier if I had known at that age and done a Masters in fashion design instead!
After studying, I worked in a Human Resource team in the UK and then moved back to Nigeria and worked in a bank where I had the privilege of working in various teams. I had bought a lot of work suits but when I started the job I found that I preferred wearing work dresses. At that time there were really no Nigerian designers doing work wear so I started designing what I would like to wear, buying fabric and taking it to a tailor to make them for me. Whenever I wore them, my colleagues liked them and asked me to make some for them, and this basically is how the journey started!
 What challenges have you faced as a female designer in Nigeria?
Being an entrepreneur in Nigeria is difficult whether you are male or female. However I will say dealing with male staff might be a difficult one. It is not news that women are not respected as much as men in Nigeria and therefore male staff may not take you as seriously as they would a man especially when you are younger than them.
Other challenges would be infrastructure – like having to run my own power eats deeply into my profit. Also, sourcing fabric and managing staff.
How do you stand out from competition?
For me, designing and making clothes isn't only about the clothes, there is also a strong message I try to get across. I am very passionate about empowering women, raising self esteem and making them see all they can be and achieve. When you wear an Adey Soile dress, you should feel like you can conquer anything and be anything. Basically invincible.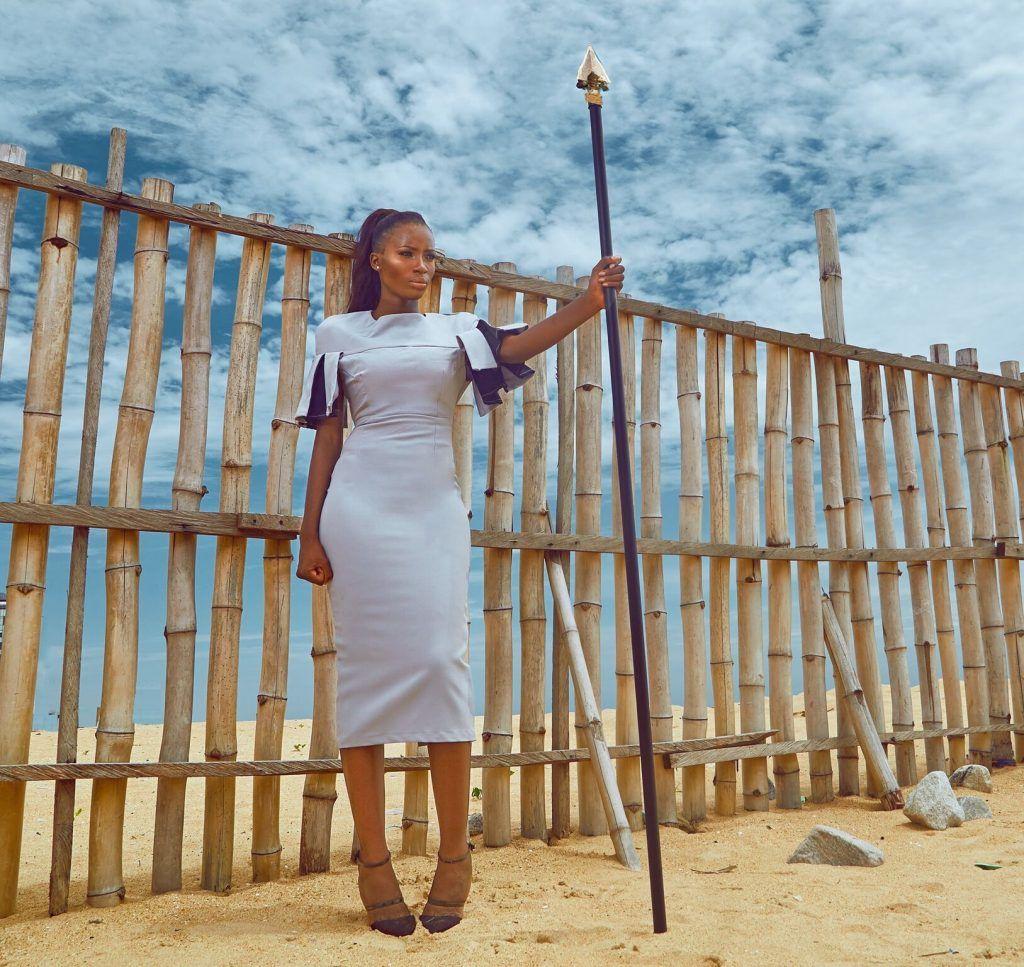 What do you think is lacking in the Nigerian fashion industry?
I think the lack of garment production companies hurts the business. If there are more good and decently priced companies that focus on garment production, it eases the pressure off designers and we can focus on the other arms of the business. Another lacking issue is lack of structural and financial support
How important is it to you to break into the International market?
To be quite honest, breaking into the international market will be nice but it is not a priority for me. I feel that the international market is over saturated with designers and clothing brands of different styles and price points. I am more interested in making a mark in Nigeria and my surroundings like Ghana. This is where we are actually needed so we can all stop spending FX abroad, buy our own produce and grow our economy.
Has the 'Buy Nigerian' movement helped your brand or is it just another hashtag?
I don't know really. I think the buy Nigerian movement is amazing. We ought to be proud of our produce and remind ourselves that only WE can develop our country/industry. Whether it has helped my brand; I really don't know.
Where did the Adey Soile name come from?
My name is Tinuade Soile, so Soile is my surname and Adey is a funky way of spelling Ade, which are the last 3 letters of my first name.
Many people are of the opinion that Nigerian brands are very expensive? Who is your target audience?
I really try to ensure that my price points are not too high. I don't want people to have to save up to buy Adey Soile, I want Adey Soile to be part of their everyday life.
My target audience is not age or career bound, it is pretty much a strong woman who knows what she wants and wants to look the part.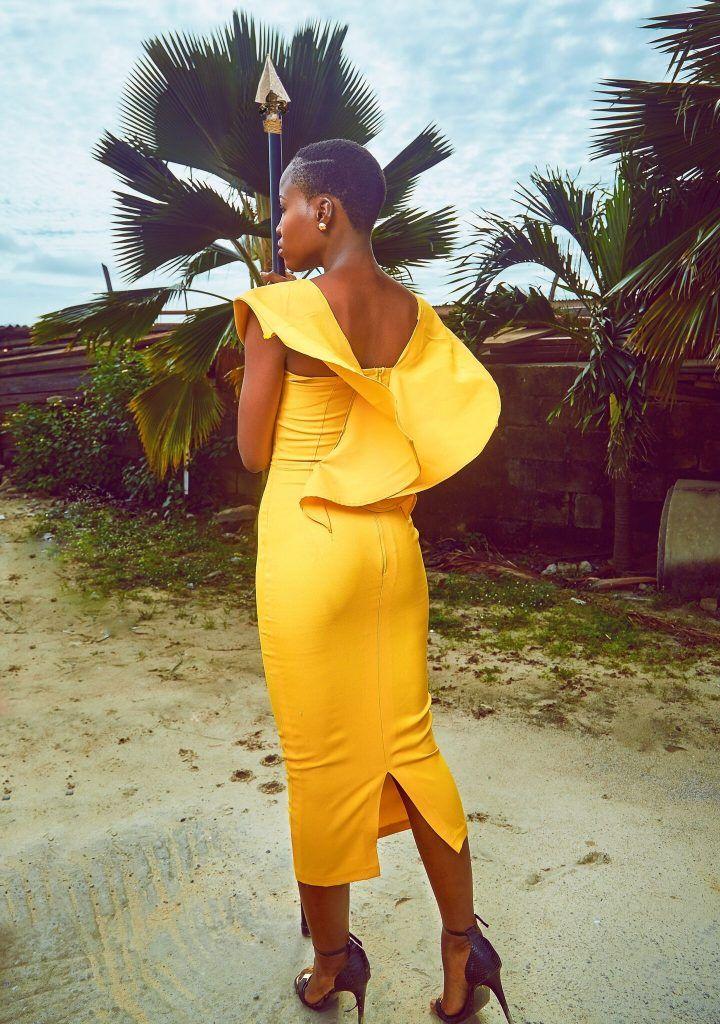 How much cultural influence do you draw from when creating?
Every collection is different and inspired differently, but I think inspiration comes from what is around you; what you are exposed to, so inevitable I am always inspired by our culture. The Dahomey Amazon collection was very influenced by the West African culture. Firstly the inspiration in African women, but Aso Oke was featured a lot in this collection. Aso Oke is used as a celebratory fabric and in this collection we are celebrating these women.
 The creative direction for the Dahomey Amazon collection was handled by your team. How important is it for you to be hands on with your brand?
Before I started Adey Soile, I worked in a brand and marketing department that was majorly insourced. It opened my mind, made me think outside the box and navigate in areas I wasn't completely comfortable in.
I have a clear understanding of what Adey Soile is, what I want it to be and what message I am trying to pass across. Therefore it is extremely important that I am hands on.
I work with a fantastic team of people who add value to the creative process. We run some ideas through some of our trusted clients also. Watching these concepts and design come to life is very rewarding for me especially because it's in line with the Vision I have for Adey Soile.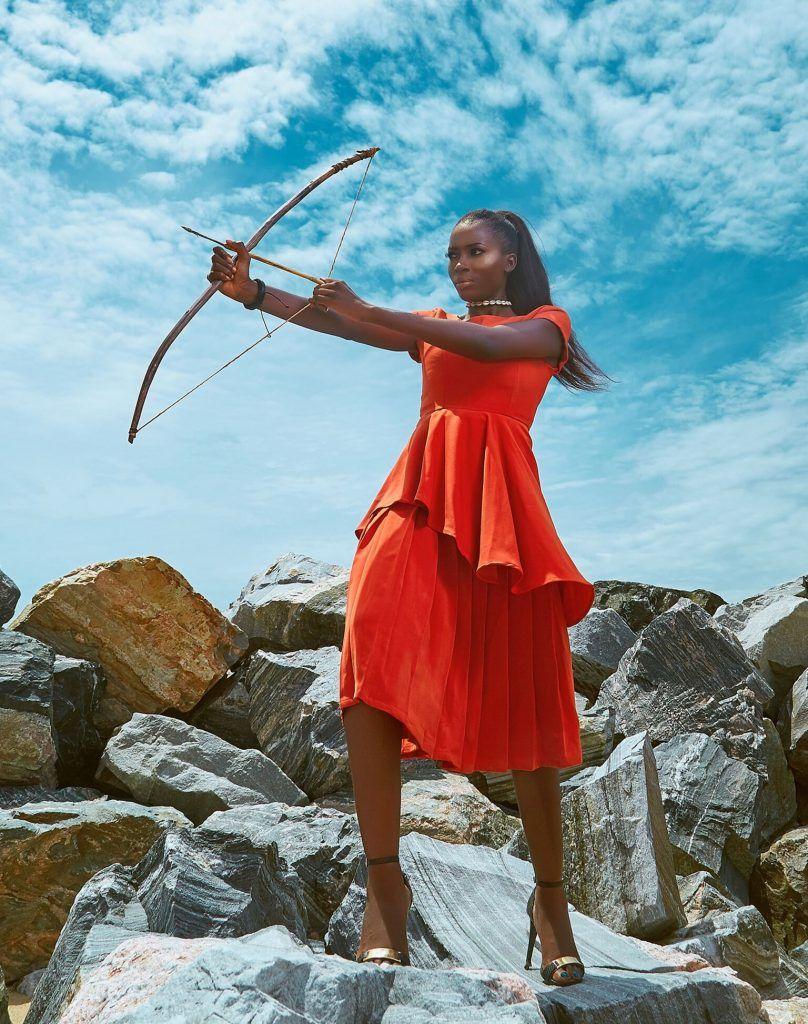 What is your vision for the Adey Soile brand?
Our vision is to inspire women through our clothes and our message; and To become the foremost women's wear brand in Africa by revolutionizing the modern working woman's wardrobe. We want to create classic timeless clothing that can be worn year after year.
 Any advice to young people trying to break into the already saturated Nigerian fashion industry?
I will say work a bit first because it gives you a better understanding of running a professional business and you learn certain soft skills, discipline and business acumen. Make sure it's your passion and not a phase; it is not all glitz and glam. Do a lot of research to ensure you know exactly the type of designer you want to be and at what price point. Grow organically so you can make your mistakes and learn from them when there are less people paying attention. Work hard and be resilient.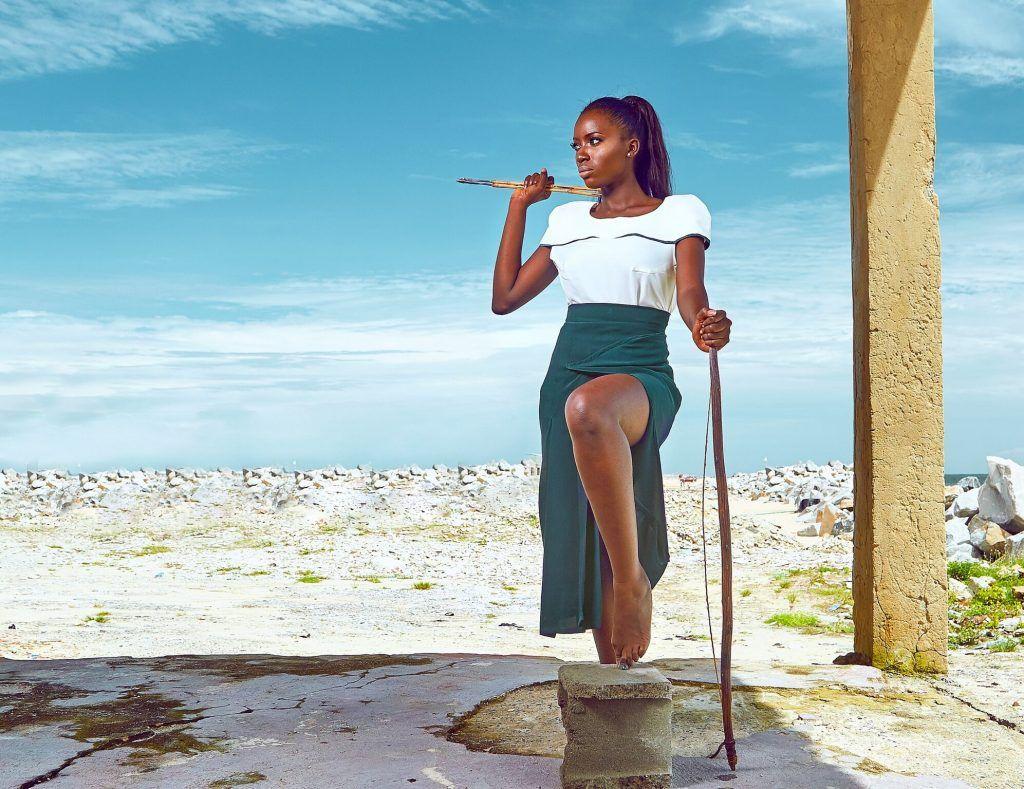 If you would like to get your hands on this collection and some casual pieces (because even power women have chill days) you're in luck. Adey Soile is having a shopping party this Sunday, the 3rd of September at Mei Dei. Get all the deets below.
See you there!