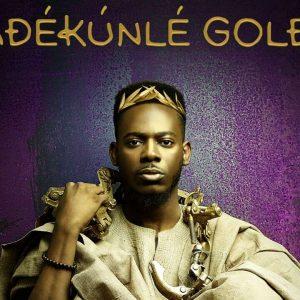 Highlife music never sounded so soulful and real… After the release of his first single titled "Orente" on March 5, 2015, fans have been waiting in anticipation for the release of Adekunle Gold's debut album,  "GOLD", the YBNL urban highlife singer finally released his album on the 28th of July 2016 and we are not disappointed… AT ALL!
The album is a refreshing and welcome alternative to all the Afro-Pop AKA "Shoki Music" which is, and has been dominating the Nigerian airwaves for the past 3 plus years… Singing largely is his native Yoruba tongue, Adekunle successfully draws in his listeners with a 16 track album filled with beautiful and emotional stories of love lost, love gained and love in the making…
The album featured his already popular hit singles, like "Pick-Up", "Ready" and also his first ever release 'Sade" which the artist included on the album as a bonus track.
On Masterkraft produced song "Sweet Me", Adekunle shows that despite the progressive nature of his style, the spirit of Highlife still lives well within his music. The song is an easy going throwback to the old school, with typical highlife instrumentation and vocals, Adekunle and Masterkraft manage to keep it simple and sweet in a way that is guaranteed to leave listeners feeling good.
Other songs notable songs on the "GOLD" album include "Nurse Alabere", in which he displays amazing creativity in his attempt to merge a native and cultural vibe into an otherwise modern progression. "Temptation" is another great song off the "GOLD" album in which he attempts to fight off a temptress or two, adamant and steadfast in his commitment to remain loyal… Lets not forget the Bollywood inspired feel good track "Ariwo Ko".
Unfortunately, despite all the great new songs featured, It is a shame to say that even after all this time, the obvious stand out track on the "GOLD" Album is STILL his first single "Orente". None of the new additions to the album quite match the level of intensity, intimacy, passion and depth that "Orente" exudes so effortlessly…
And after over a year in circulation, even "Orente" has now become quite a stale listen.
The all Adekunle "GOLD" album did not feature any other artist besides award-winning vocalist Simi, who is also credited with the mixing and mastering of the Album with the exception of Track 16 "Sade". Collaborating here with Adekunle Gold on the song "No Forget", the beautiful duet take us on a musical trip, on this love song that sounds like something out of the soundtrack to an epic love story, as Simi shows that FalzTheBahdGuy isn't the only artist she has musical chemistry with.
For a first album it is quite safe to say that Mr Orente's debut album doesn't disappoint, there is definitely room for improvement, but Mr. Orente is definitely here to stay… With further progression as an artist, will add growth as well as improve his creativity and all-round execution, which will easily propel his music to heights unknown.
If you haven't heard it yet, make sure to go get your own copy of the "GOLD" album, RIGHT NOW! This album is certainly a must listen. Enjoy.