At the age of 17, a 10-island archipelago floating in the middle of the Atlantic Ocean captured my soul and imagination through its music. The lovelorn morna melodies of Cesaria Evora and Tito Paris were my first and much cherished introductions to Cape Verde.
Located five hundred and seventy kilometers off the coast of West Africa, Cape Verde is much like its music, a winsome blend of African and European influences evident in everything from its colorful houses and squares to its rich stews and spiced seafood, and most importantly, its heady and oh so delicious ponche!
As if the cultural mix weren't enough, Cape Verde's geography is all about variety from volcanic mountains to lush green islands and endless pristine white sand beaches.
So after a decade of lusting after Cape Verde and with only an hour and thirty minutes between us, I grabbed a friend and took a quick 4-day tour to explore the archipelago.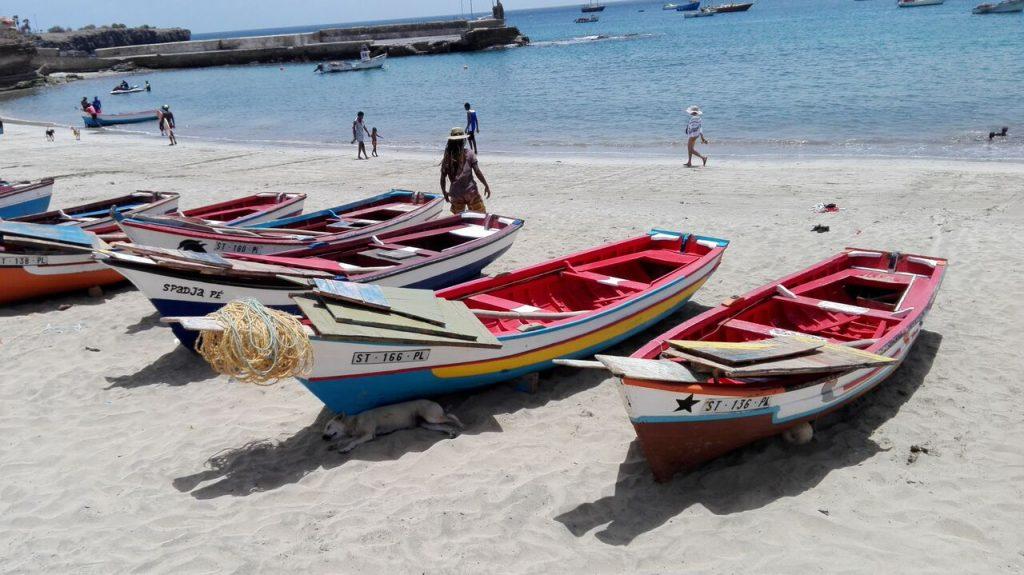 Thursday & Friday
São Vicente
There are a number of islands to visit in Cape Verde, with Boa Vista and Sal being some of the most popular, thanks to their pristine beaches and white sand dunes. My fascination with Cape Verde, however, has always been intimately linked to its music and as such, the first stop on my trip was the island of São Vicente. São Vicente is home to Cape Verde's cultural capital, Mindelo, a harbor city that is the birthplace of many of the country's renowned musicians, including its most famous, the Barefoot Diva. Aside from its significant musical history, Mindelo is a picturesque city with charming colonial buildings, large and colorful squares, cobbled streets, and numerous cafés and restaurants, which makes it well worth a visit.
Finding Your Bearings
A number of international airlines, including Cape Verde's TACV, have connecting flights to São Vicente's Cesária Évora Airport. The airport is just 5 kilometers away from the centre of Mindelo and a cab to town will cost about 900 escudos. In terms of accommodation, you can find a decent number of guest houses and hotels for a range of prices. For my trip, I stayed at Casa Solarino, a refurbished old Portuguese-styled house managed by a wonderful Italian couple. The sunny yellow guest house is right in the heart of Mindelo and has a sun terrace from where you can view the city and the harbor.
Exploring Mindelo & São Pedro
Brace yourself. Mindelo is a small town, which means it is possible to find yourself suddenly out of things to do. The upside is, this also makes it the perfect place for stress free sightseeing.
Start your day by walking along the harbor, where you can find a number of cafes and restaurants for a quick and delicious breakfast. Then take a tour further along the harbor to see the replica of the Torre de Belém and then into the city to visit the scenic Mercado de Peixe (fish market). For the music buffs, visit the Casa Museu Cesaria Evora. The small museum will give you a chance to learn about the singer's life and the evolution of various music styles in Mindelo.
In the afternoon, grab a taxi and head out of Mindelo to visit the little village of São Pedro, located on the southwest of the island and a stone throw away from the airport. Spend the afternoon relaxing on São Pedro's sandy beaches or go windsurfing, sailing, or diving in the waters. For lunch, head over to Sto Andre, a small restaurant in front of Foya Branca and across from the airport.
You'd be forgiven for wondering if you had just stepped through a looking glass, Sto Andre is almost too storybook like to be true, with delicious almost homemade-like food, warm and welcoming staff, and liberal shots of three different flavors of the islands' famous ponche that will give you good vibes until the evening. This is authentic Cape Verdean fare.
Saturday & Sunday
Santiago
Whereas São Vicente is small and arid, Santiago is Cape Verde's biggest island with a much more diverse landscape comprised of dry steppes, lush green valleys, and sandy (or rocky) beaches. Santiago is also home to the capital Praia, where more than half of the country's population lives.
Finding Your Bearings
Most airlines coming into Cape Verde stop in Praia's Nelson Mandela International Airport, from where it is quite easy to get a taxi into the city. For assistance with negotiating taxi costs, ask one of the airport staff and they will gladly assist you. As the business and political capital of Cape Verde, Praia has a wide range of hotels to choose from that will accommodate any budget. The Hotel and Tourism School for Cape Verde is a great bargain, offering affordable guest rooms and affords you the opportunity to spoil yourself with chefs and wait staff in training. For a trendier hotel and a view of the beach, check out the newly established VIP Hotel. The hotel is collocated with a modern shopping mall and close to many vibrant restaurants and bars.
Exploring Santiago
On our first day in Santiago we hired a taxi and went on a 45-minute drive to the south of Santiago to visit UNESCO World Heritage Site, Cidade da Ribeira Grande de Santiago or Cidade Velha. Cidad Velha is the first European colonial post in the tropics and was established in 1462. It is a place loaded with history and critical to the origins of creole culture in Cape Verde; an important maritime trade center, Cidade Velha was center to the trade in slaves and goods between Portugal, Africa, Brazil, and the Caribbean.
Cidade Velha is a place that boldly announces its complex history, and the Pelourinho, a pillory used to market slaves, is on full display on your entrance into the city. A short distance from the pillory is the Rua Banana where you can see old-style Portuguese houses, many of which are presently inhabited. Close by is the world's first European colonial church, Nossa Senhora do Rosário church. The massive fortress, Fortaleza Real de São Felipe, stands tall over the city and a quick drive up to the fortress will give you a great view of Cape Verde's old capital, its grand valleys and the endless deep blue sea.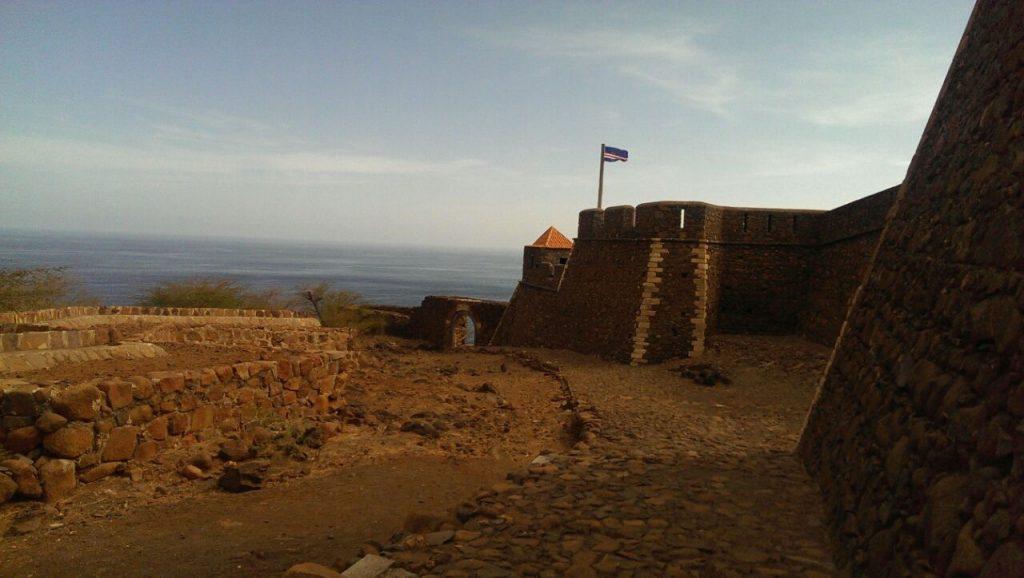 For a more low-key adventure laced with equally rich history, head to the plateau area, the center of Praia. Plateau hosts colorful houses from the colonial era and you can visit the impeccably organized open air market, the presidential palace and parliament building, the beautiful Nossa Senhora da Graça church, or just sit in one of the many parks near the city hall and enjoy the gentle sunshine.
At the end of your adventurous day, treat yourself to something special and grab a table at the popular Quintal (5al) da Musica. 5al is a vibrant restaurant located in Plateau and serves some solid creole fare. But more than that, 5al is a musical institution. Many of Cape Verde's famous musicians have at one time or another passed through its doors. Definitely try the caprioska and don't be surprised if you see the waiter balancing your drink on his head. Fun will be had by all!