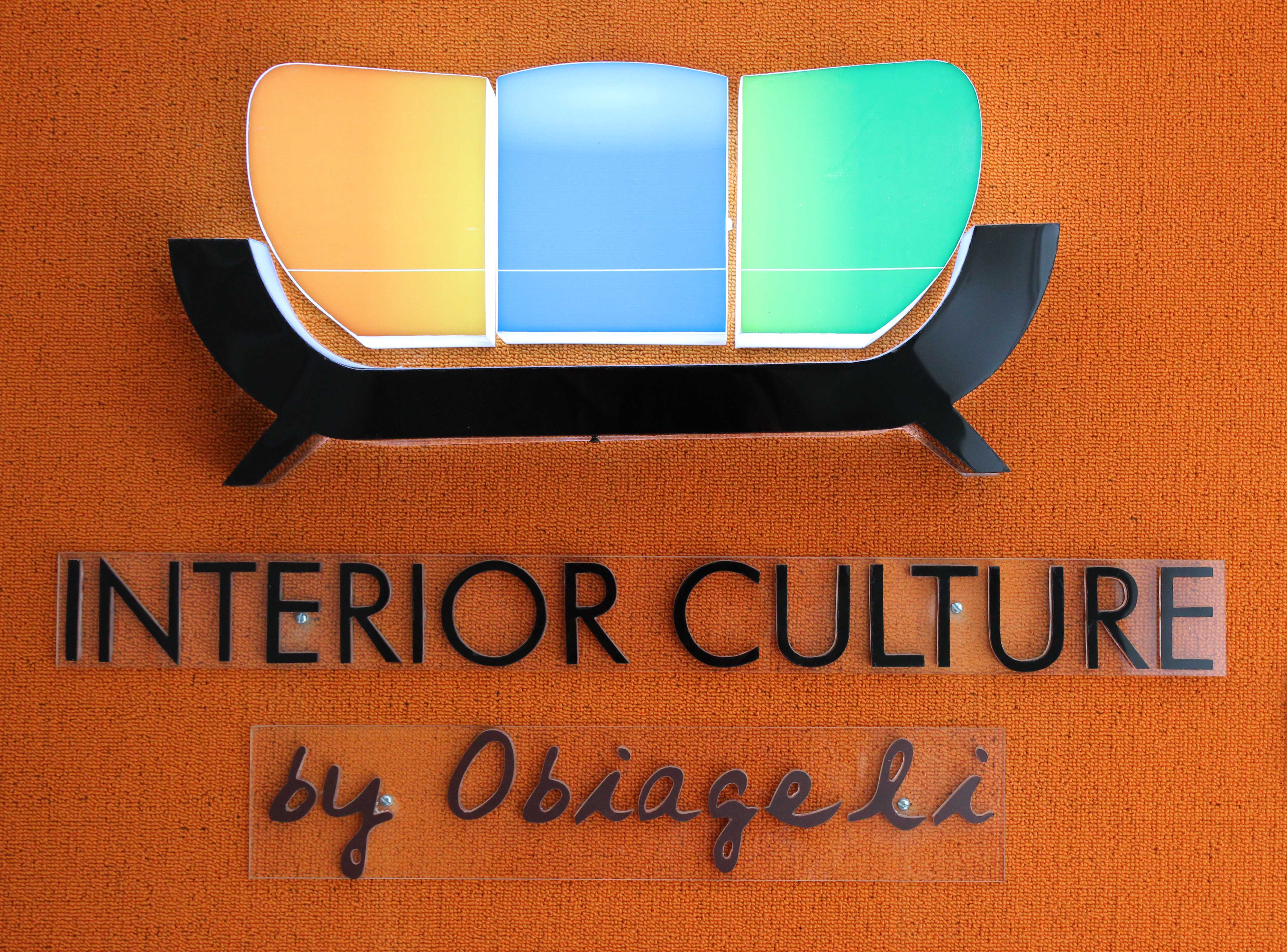 The meaning of Contemporary Africa comes to life the moment you step through the showroom doors of Interior Culture by Obiageli. Eccentric colors matched with vibrant art work are complemented by a muted elegance of minimalism that is refreshingly new; reminiscent of a space you've always wanted but never quite knew how to explain.
It's hard to believe that the woman behind the brand; Tracy 'Obiageli' Nwapa began her career in interior design just three and a half years ago. It's also harder to believe that most of the furniture in the showroom is locally produced. With an impressive portfolio, a workshop of local artisans making bespoke made in Nigeria furniture and a staff which she calls her designers – it's no wonder why we wanted to sit down with Tracy (on her impeccable chairs) and ask her a few questions on how she started the business – her inspirations, motivations and challenges that may have come with being a girl boss in the beautiful world of Contemporary African design.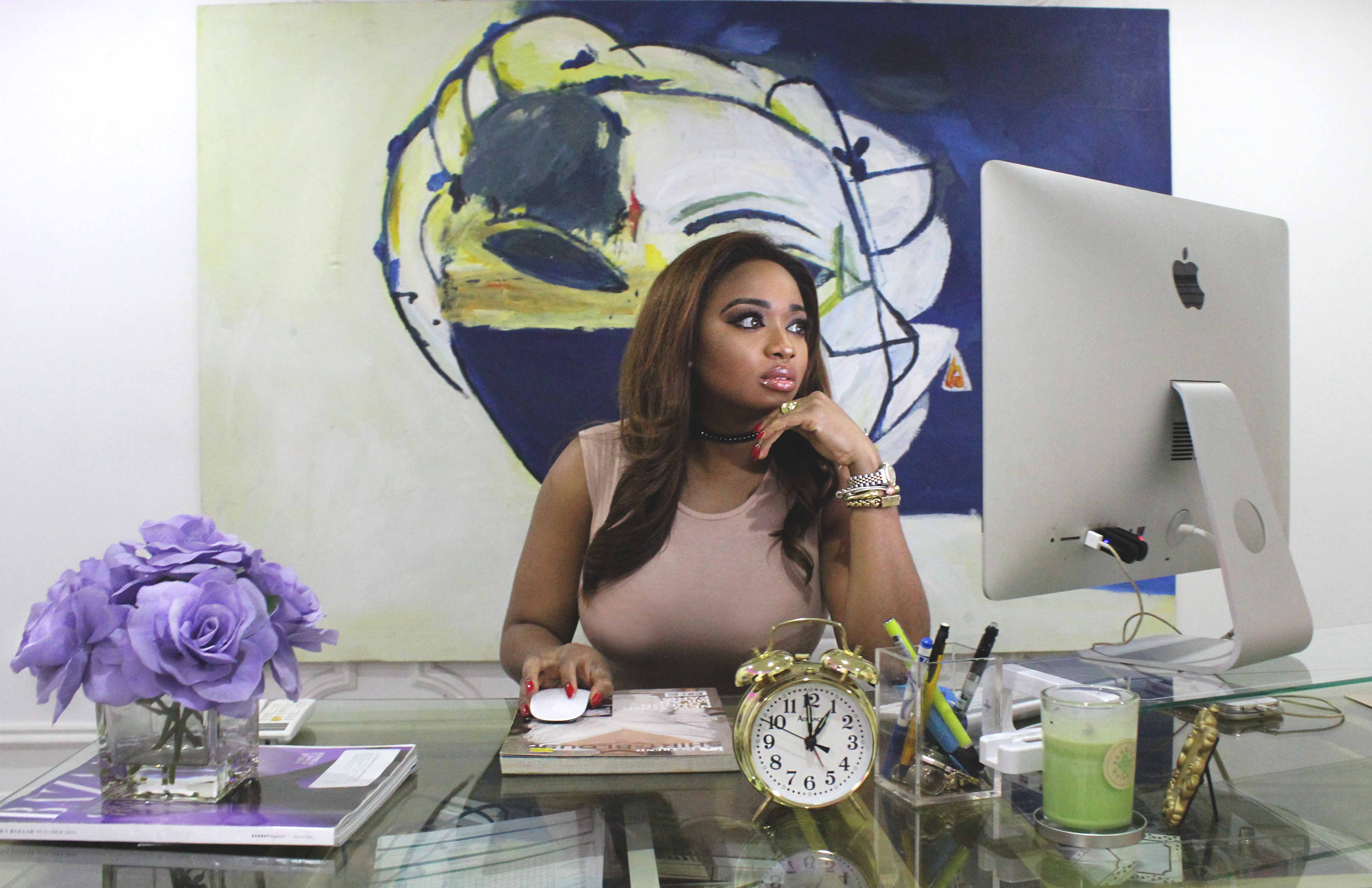 How did Interior Culture begin?
Funny enough, I've always had a flair for Interior Design and I knew I was going to do it. In fact I was trying to study interior Design and Architecture but I was bad at math. It was a woeful attempt so I decided to drop out of interior design and architecture as a major and I studied it as a minor. When I moved back to Nigeria, I decided to pursue my first degree in Journalism and Film Production. I did some TV jobs but I was still doing things in my house. I would change my room design every 5 minutes.
So one day, my brother told me about an interior design job at an oil company. I went and looked at the space and out of three people, I got the job. It was a huge project, I had to strip down an entire building and do the whole décor and then I knew I really liked it. The guy who hired me was so impressed he gave me another office – so just like that, I had two corporate offices under my belt. My next job came from a really good friend of mine – Tola Awosika of 355 lounge. That was literally my big break because I was allowed to express my creative side and I learnt how to work with my artisans. Everyone that visited 355 was talking about the decor and I started using Instagram to promote my work. I got a lot of referrals and contacts and I haven't looked back.
What would you describe your aesthetic as?
At Interior Culture, we are themed designers, so we can create anything based on the client's preference or based on the space. So, when I walk into a space, I definitely envision what the space should look like when it is done. Coupled with the functionality of the space, and my client. But my personal style is 'contemfro', or an eccentric minimalist.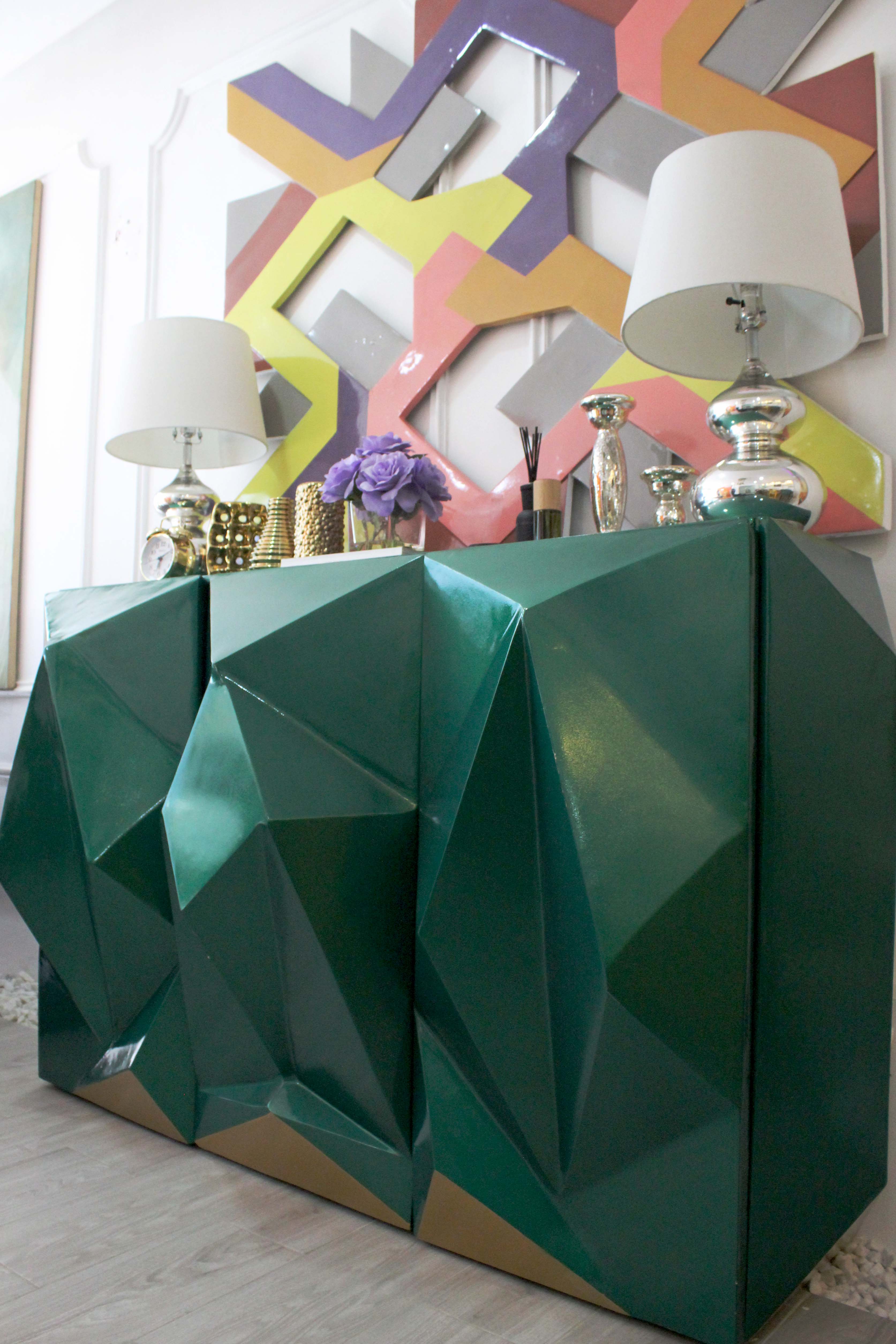 Contemfro?
'Contemfro' is the fusion of contemporary and afropolitan. This influences our design as we infuse African history and designs into more contemporary fashion. I love every style but I really just love eccentricity but it has to be minimal. In my home, I would have a very crazy statement chair and then I'll just have other minimal objects around it.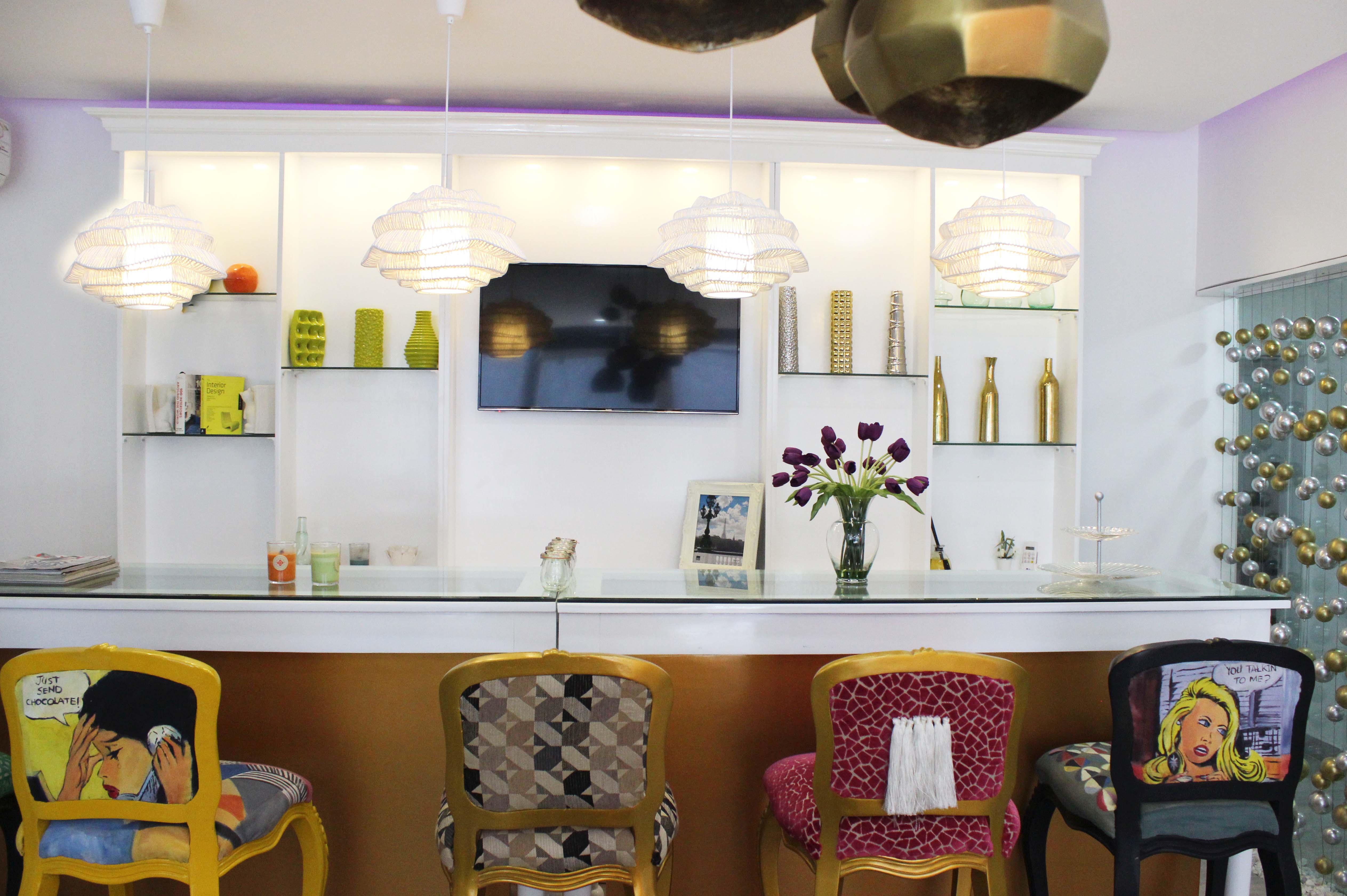 But people love the fact that our stuff is made in Nigeria and because as themed designers we create. I have a team, we all come together and when we look at a space, we see which objects will be perfect where. Doesn't necessarily mean that it's our style but we just appear to everyone based on the space and what they actually require.
What challenges, if any, have you faced working in Nigeria?
The first challenge would be that Interior design as an industry is very young. There are too many little little outfits as opposed to a few big groups; so as an industry it is harder to grow. In cities like Cape town, which is like the design capital of the world – you see a lot of collaborations. In Nigeria, I don't feel like people are putting in their best efforts to make sure we are seen as big designers. To grow as an industry, we have to come together.
The second challenge would be local production. We have to depend on local artisans who have little to no training. In the states, where I studied, if you hire a painter, the painter is a professional you don't need to teach them how to do their job or supervise them. But in Nigeria, it's never that straight forward because they are not professionally trained. We don't have a system here where artisans go and get proper training in a school. Other countries like Ghana and Togo have these schools. But here, the smart ones learn and they learn how to work with who they work with, but then there are loads of unprofessional people who just come and mess things up and you have to either weed them out or teach them. So, thats a major challenge we face.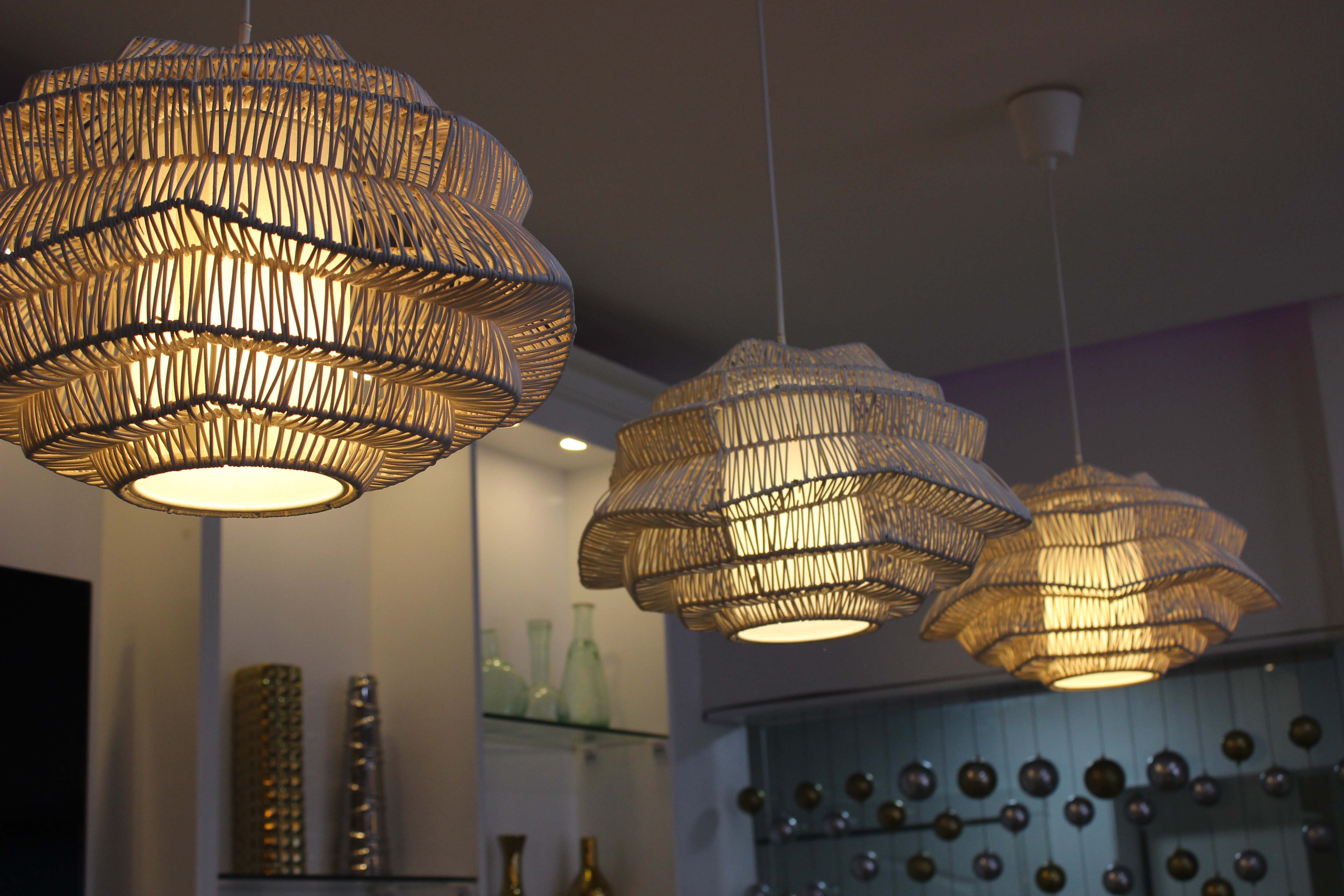 Availability of materials is another challenge. As a company, we have succeeded in getting creative with the materials that we have available to make them look 'imported'. For instance, if we want to get wood, we have to go to Ogun state and it has to dry first. You can never have that finish you have if you went to a store like Home Depot in the US. You actually cannot paint with a brush in Nigeria. The condition of the material just does not allow it. Everything has to be sprayed for it to have that clean look. So, we basically have to use different inferior materials to match up to what the standard is.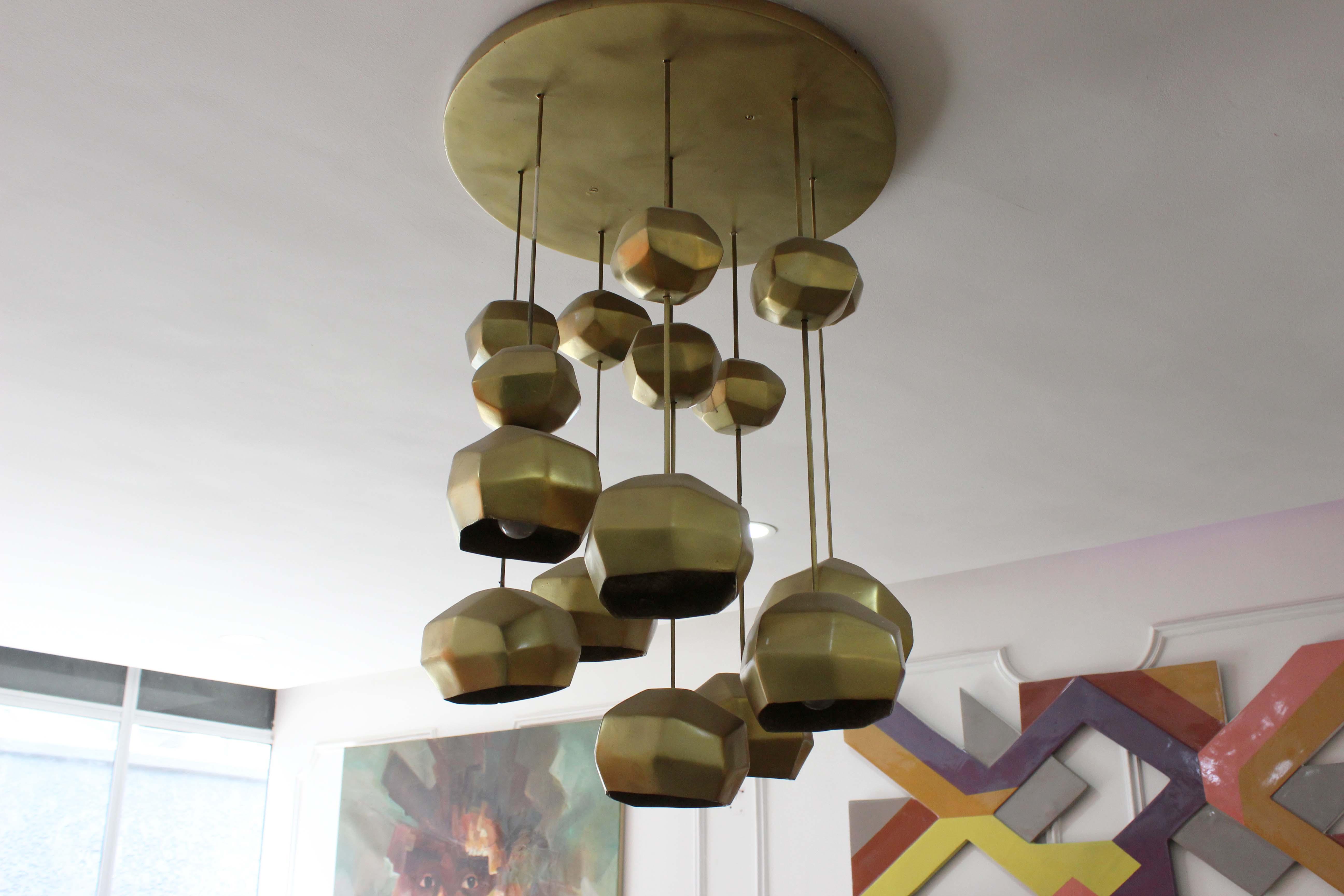 Where do you see your brand in ten years?
I couldn't tell you 3 years ago that I would be here. It hasn't been easy. 2014 was our hardest year. We had only 3 jobs the entire year. And it was not like people were not contacting us or requiring our services it just that nothing ever went through. So we would just struggle and I just had this conviction that what we are doing is relevant and will yield something one day. But in 2015, things picked up and we started getting jobs. Now we are here, I know that in another two year, five years, ten years – we are just going to be bigger. I ultimately want to have a huge workshop where we are employing people not just in Nigeria all over Africa, with some expatriates who will come and train the workers. Machinery is a huge factor when it comes to furniture making. If you don't have machines, you can't really get that exclusive finish that you desire.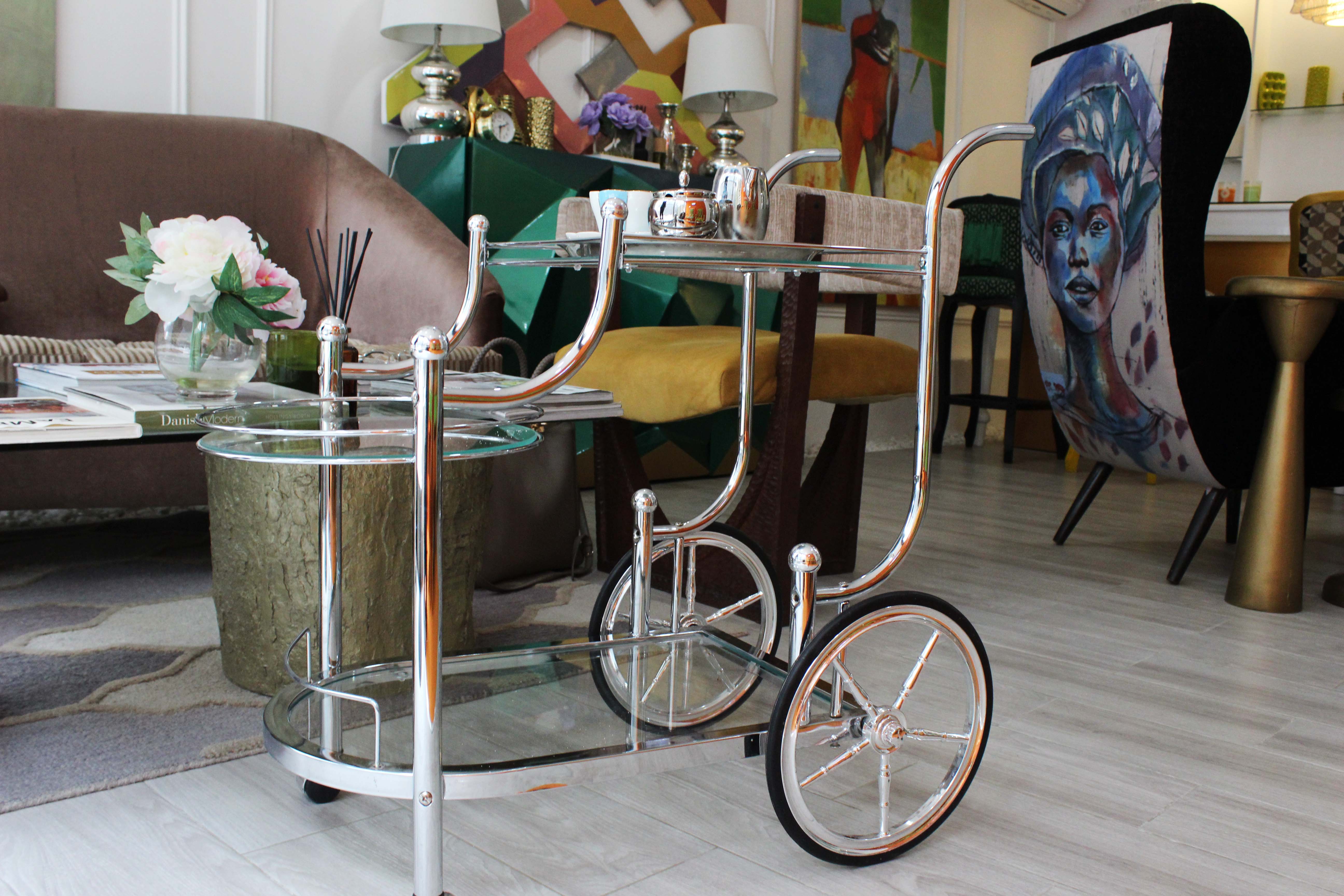 So, you're an interior designer and a furniture maker?
 Yes, and this is how it works. When we look at a space, we come up with a design. We then execute the design by actually producing what you see in the design. So some of the items we source, we purchase, but we definitely produce most items. People come and ask us if we can make them a chair or one table. But we can't do that. It is not worth it because it is going to take three weeks to produce one table and it can take us the same three weeks to produce 15 tables. And it is even cheaper for the client. So I wouldn't say we are a retail outfit because we don't sell one-off items but we produce to fit a specific space. We create spaces. 75% of what you see in my space here is locally manufactured.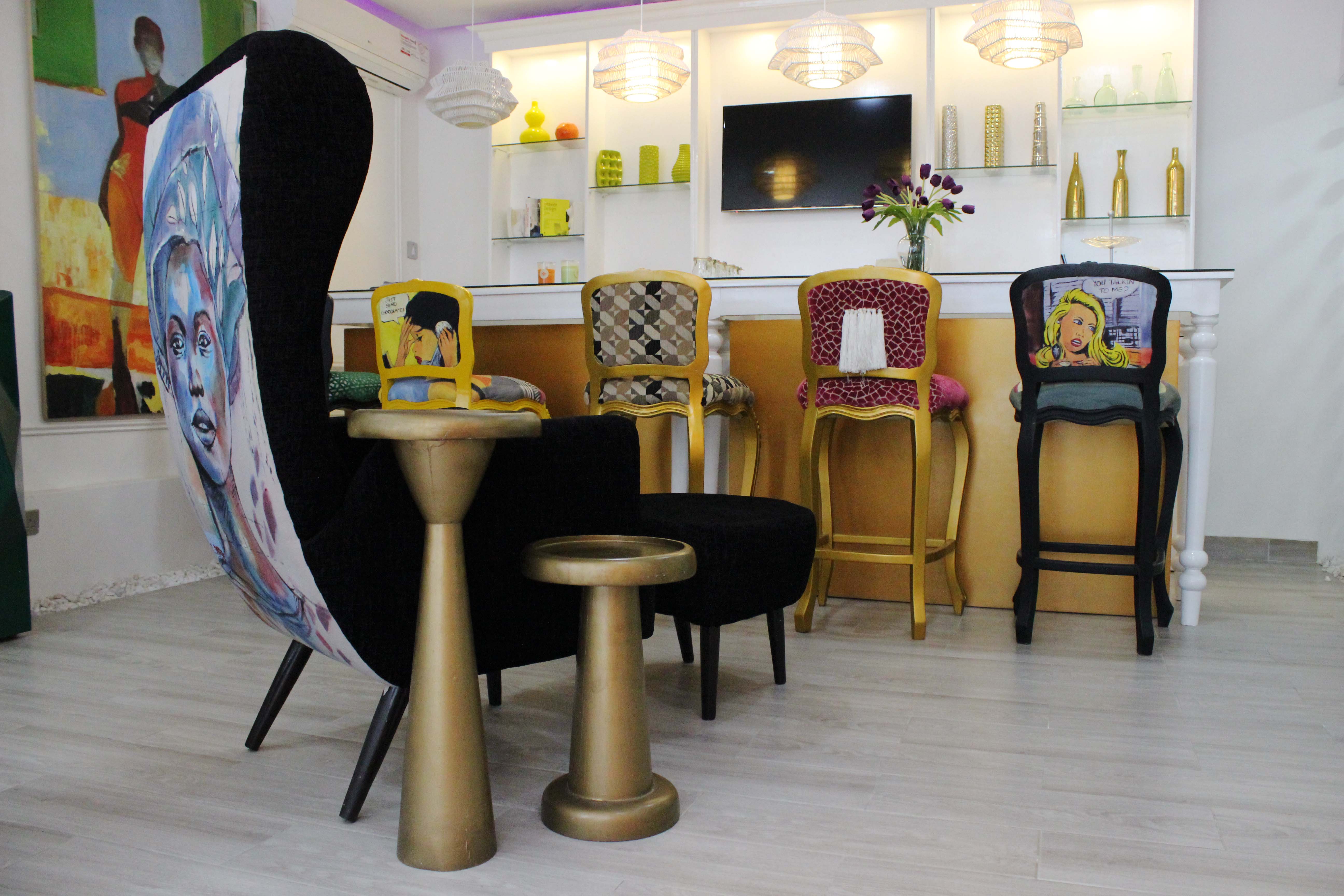 What pieces of work do you cherish the most?
Our demo room has sections dedicated to our actual designs. It shows a glimpse of what we have created as our signature pieces. Like, the brown sofa with little block cushions is inspired by agege bread. It is the fastest thing a construction worker or a bus driver will buy to eat on the job. It represents the struggle and sweetness of Lagos, even though it looks like a contemporary sofa. We also have our signature character chairs which have tassels and hand painted characters on it. I like to think when we close up at night, the chairs have their own private conversations.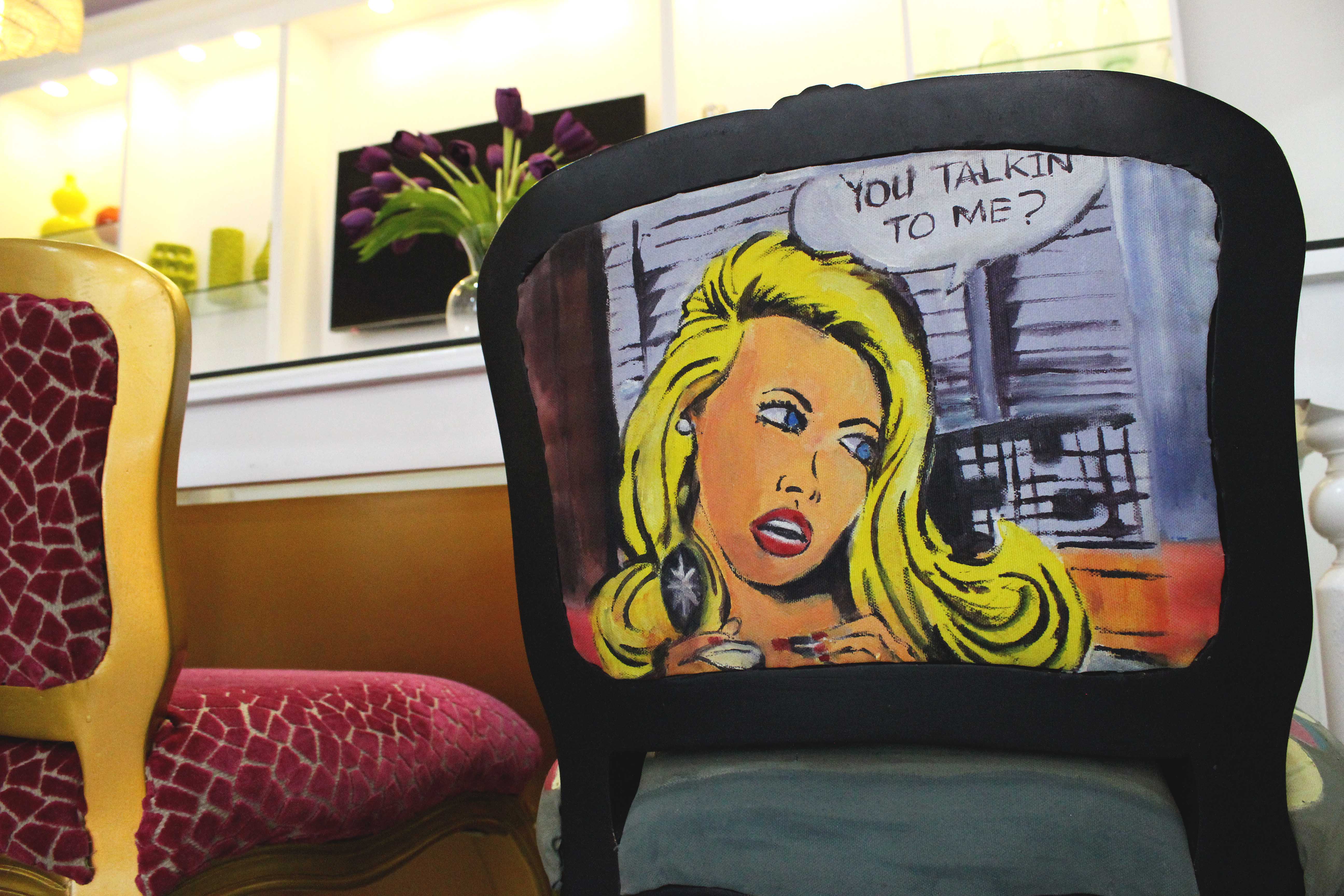 [epq-quote align="align-center"]"The agege sofa is inspired by agege bread. It is the fastest thing a construction worker or a bus driver will get on the job. It represents the struggle and sweetness of Lagos"- Tracy Nwapa[/epq-quote]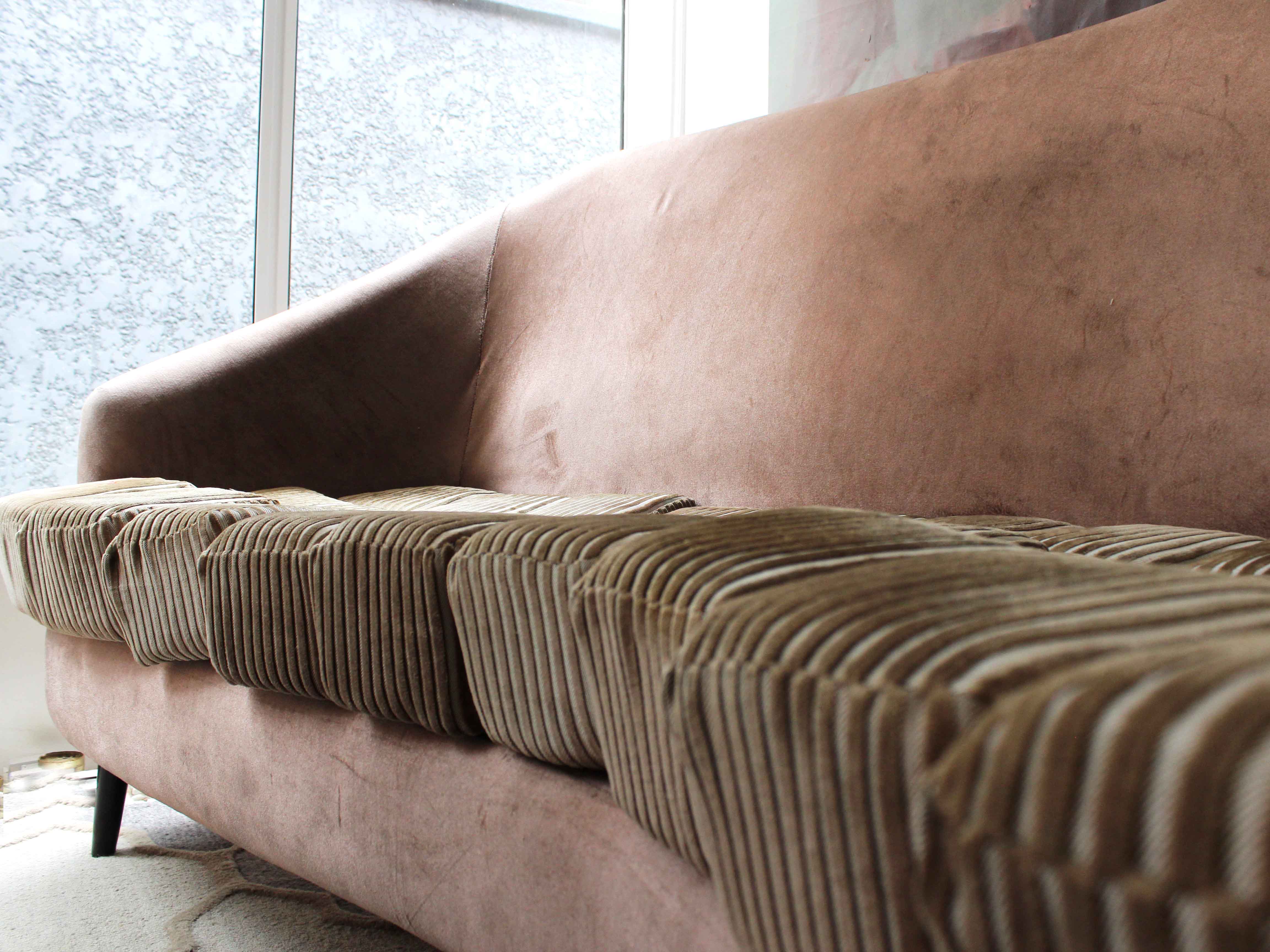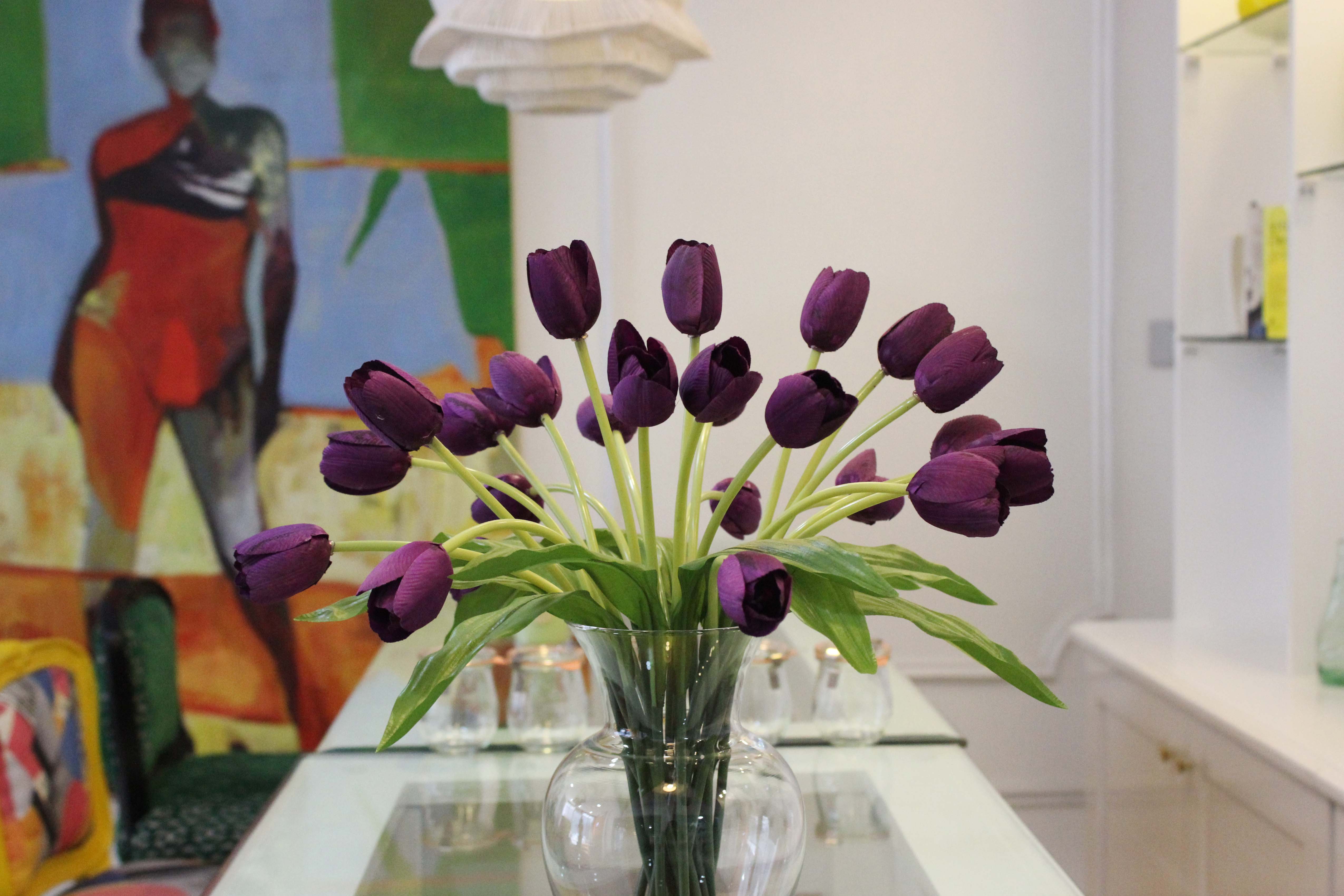 ---
Photography by Doute Angel Adukeh
For more information on Interior Culture by Obiageli. Visit their website – www.interiorcultureng.com
Follow them on Instagram – www.instagram.com/interiorculturebyobiageli/