There is an urban myth about Lagos that says; no matter what day of the week or time- you can find somewhere that's rocking. However, most people who actually live in Lagos complain regularly about the lack of things to do socially. It's either they end up going to the same place over and over or genuinely don't know where to go. From Thursday, the social calendar usually crops up with events here and there but Wednesdays (which scientists claim is the day most working class people start to feel the need to have a drink) can seem relatively boring.
PS: It's a total coincidence that the first three restaurants mentioned are Mexican. We guess nothing says Wednesday like Tequila?
Tex Mex Night: Crossroads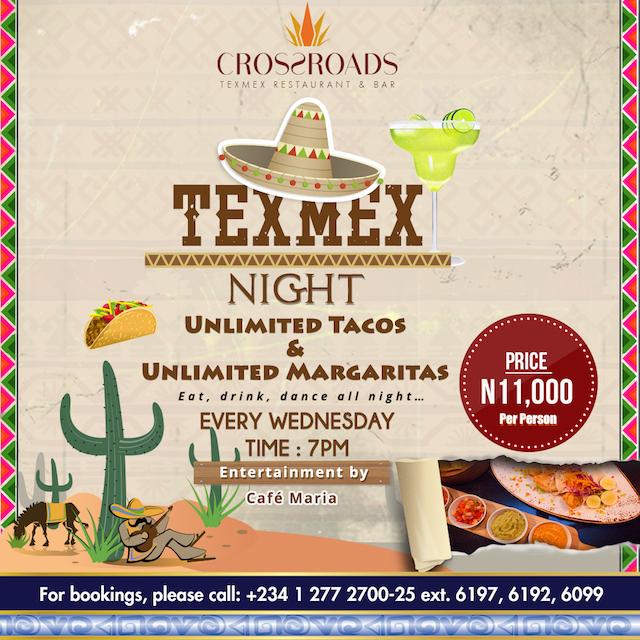 Crossroads is a relatively new Tex-Mex Restaurant & Bar in Eko Hotel. The word Tex-Mex is short form for Texas & Mexico and it means the food and usually the music have a blend of Mexican and South American features.  Every Wednesday, they offer unlimited margaritas and unlimited tacos at N11,000 per person or N7,000 if you're only going for the margaritas. They have a really, really good live band that plays South American music and covers from all over and the turn out is always decent. We don't think the price is feasible every single Wednesday (economy struggles and all) but if you are feeling pocket happy, you should definitely check this out. You also get a free sombrero (large Mexican hat) to wear while you're having drinks – which really gets exciting after a few Margaritas.
2) 355 Wednesdays
355 is also a Mexican restaurant that has been around for a little bit. They just started having a special night on Wednesdays which is hosted by Fashion blogger, Denola Grey and social media funny man, Koye of @k10vids If you've met either of these two personalities before – you'll know they are hilarious and after a few Wahalaritas (355's Naija twist on the Margarita) you may just be in for a mid-week treat.
3) Debbie & The Contraband Live band @ BLD
The name of the band alone should make you want to check this out. Every Wednesday at the BLD rooftop, this band performs the hell out of covers and it's a really nice vibe. The newly refurbished BLD rooftop definetely helps with an awesome giant floor chessboard in the middle (cute first date idea by the way).You can have hookah as you chill and listen to some really awesome covers. Check out a snippet of the lead singer of the band performing Sia's 'Chandelier'. We wonder if her name is actually Debbie…
4) Bottles Wednesdays
Bottles classic Wednesday spot that most people already know but the list wouldn't be complete without it. Bottles is a Mexican restaurant that has been around for a very long time. It is an ex-pat hot spot and if you don't book a table for their Wednesdays, you probably will not get a seat. This doesn't stop people though, as many people are happy to stand outside with their drinks and chat. Even though its a Mexican restaurant with a live band playing (inside) – it has a very English pub feel with all the chit chatter and drinking going on. They serve frozen margarita pitchers which may quite possibly still be the best in Lagos. Also, they do an unlimited beer and wings night every Tuesday, so if you're more of a beer kinda guy/gal and prefer a quieter vibe – you'll probably enjoy it more.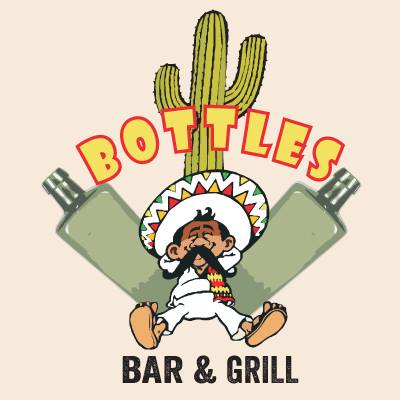 5) La Taverna Pizza Night & Live Band
La Taverna is a really cool Italian restaurant, run by a friendly Chilean Chef named Christian. Every Wednesday, they offer the most delicious pizzas for only N2,500. Its authentic Italian pizza – thin crust and oven baked to perfection. On Wednesday evenings,La Taverna has a cool selection of artists who play some live music from afro jazz, to neo soul. The vibe is chilled, the music is good and the pizza is cheap. What more do you need from life?
Yeah, we know. YUM.