Having a passion for something doesn't necessarily translate to success. From time to time, it is important for one to expand the horizons of the knowledge of whatever it is that they are passionate about. Be it online tutorials or part time classes, upping one's skill(s) and knowledge is a necessity. And when you get the opportunity to learn firsthand from the best in the industry of your choice? Even better. Sure, classes in your spare time are never an appealing prospect. But when they involve trying out shed-loads of food and drink? We bet you'll want in for sure.
Come the 29th of April, 2018, the biggest gastronomic fair in Africa, GT Bank Food & Drink fair will be back for it's third edition. A three-day food affair, the event sees an amazing lineup that features some of the world's best culinary personalities. From chefs to pâtissiers to mixologists and food business consultants, these maitres de cuisines will each be sharing their in depth knowledge on the food industry and will be engaging food enthusiasts in a unique food experience by way of interactive masterclasses  that will see live demonstrations and culinary how-to's.
Be you a food lover, foodpreneur or  a culinary enthusiast, this is the perfect opportunity for you to learn from the food industry's best. Meet the facilitators that GTBank Food and Drink Fair masterclass facilitators that are guaranteed to take your food game to a whole new level.
Sunny Anderson
What She's Known For: Sunny Anderson is a well-known chef, author and Food Network personality. Famous for hosting the food programs 'How'd That Get On My Plate?' and 'Cooking for Real' amongst others, Sunny is also known for her role as co-host for the channel's food show 'The Kitchen'.  As an army brat, Sunny grew up exploring all her passions from radio hosting to food journalism to cheffing it up for real. With an understanding of everyday food requirements and the belief that people deserve delicious meals, Sunny delivers a unique cooking style that combines classic comfort foods and distinctive flavours.
Masterclass: How To Make Home-cooking Easy & Exciting.
Date: April 29th, 2018.
Adetomi 'Imoteda' Aladeokomo
What She's Known For: Adetomi 'Imoteda' Aladeokomo better known as Chef Imoteda is a Nigerian chef and co-owner of Eko Street Eat, a company that specialises in bringing innovative twists to Nigerian street food. Trained at Le Cordon Bleu, Chef Imoteda is also chef instructor and host of two TV shows, Urban Kitchen and Heels in the Kitchen. When she is not training budding chefs or presenting food shows on TV, Chef Imoteda is busy with the Nigerian Fusion Food Tour. Now in its third year, the tour aims to celebrate the richness of Nigerian cuisine by taking it around the world.
Masterclass: The Art of Plating.
Date: April 29th, 2018.
Sibahle Mtongana
 
What She's Known For: A multi-award winning South African celebrity TV chef, food enthusiast and author, Sibhale Mtongana popularly known as Siba, specialises in recipe development, food writing and food styling, and has won three prestigious Galliova Awards for her food journalism and her involvement in the South African food arena. Famed for her eponymous Food Network show- "Siba's Table.", Siba believes in giving back and is now a patron for Food bank South Africa, an organisation that fights against hunger and malnutrition through food rescuing programmes.
Masterclass: Succeeding As An African Chef on A Global Stage.
Date: April 29th, 2018.
Muneera Tahir
What She's Known For:  Muneera Tahir also known as Chef Muse is a sous chef and the Chef instructor at Red Dish Chronicles, one of Nigeria's leading culinary schools. Chef Muse's love for culinary arts began in her grandmother's kitchen and led her to complete a Chef's Diploma in Cuisine and Patisserie at Red Dish Chronicles (RDC) in 2016. After completing her Diploma at RDC, Chef Muse got an internship at L'italiano Restaurant and rose rapidly to the position of Head Chef of L'Italiano Restaurant where she worked until September of 2017. There after she returned to her Alma Mater, RDC, as a Chef Instructor.
Masterclass: Grooming Chefs of The Future.
Date: April 30th, 2018.
Scott Winston
 
What He's Known For: Upon discovery of his passion for food and food business, Scott Winston started his career in fine food retail 20 years ago at Harvey Nichols Food Hall. Going on to become a key member of the buying and retail teams at Harvey Nichols, Harrods and Selfridges, Scott currently pursues his passion to help small and start-up food brands achieve their goals through various mentoring and support programs as well as also connecting brands with a buyer and distribution network. Scott also works as Judge Arbitrator for Guild of Fine Foods highly reputable Great Taste Awards.
Masterclass: How To Build A Successful Career in Food Business.
Date: May 1st, 2018.
Elizabeth Solaru
 
What She's Known For: London-based Elizabeth Solaru is the founder of Elizabeth's Cake Emporium is a leading provider of innovative and beautiful cakes, cupcakes and cookies. Acclaimed for her exquisite sugary crafts made with the finest of ingredients, Solaru uses her products to showcase a variety of designs and flavours. With a clientele list that boasts British, European and Middle Eastern Royalty, celebrities and high net worth individuals, Elizabeth is also a star speaker, competition judge and host on The Cake and Bake Show and recently judged Championnat de France de Cake Design, the French cake championships.
Masterclass: How to Make Great wedding Cakes .
Date: May 1st, 2018.
Lorraine Pascale
 
What She's Known For: From strutting down the runway as a model to fixing cars as a mechanic, Lorraine is a woman of many talents. After trying her hands on several careers, Lorraine found herself back in the kitchen with her first love. Now a cooking and publishing phenomenon with a noteworthy best-seller "Baking Made Easy", Lorraine Pascale can be described unique talent with a relaxed nature and happy, welcoming style which are unrivalled in her field.
Masterclass: How To Make The Perfect Desserts.
Date: April 29th, 2018.
Benedict Okuza (Chef Benedict)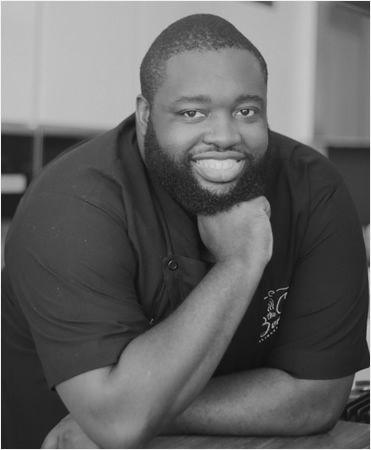 What He's Known For: Chef Benedict is a custodian of Italian Cuisines and an alumni of two prestigious institutions: le Cordon Bleu Firenze (Scuola d'arte Culinaria Italiana), and Carpigiani Gelato University, Bologna. Having grown up in the ancient city of Florence, Chef Benedict's career as a Chef began in 2013. Since then, he has built a reputation for his extensive knowledge of Italian cuisine and ability to replicate and elevate classic Italian dishes using produce from local farmers. On Tuesday May 1 st , Chef Benedict will be at the GTBank Food and Drink Fair to guide
attendees, through food, into the historical realms of Italian Culinary Art.
Masterclass: A Guide To The Historical realms of Italian Culinary Art.
Date: May 1st, 2018.
Edd Kimber
 
What He's Known For: Edd Kimber, aka The Boy Who Bakes, has been on a rollercoaster food journey since winning the first Great British Bake Off, including working in the pastry section at Raymond Blanc's Le Manoir and writing three cookery books – Say It With Cake, The Boy Who Bakes and Patisserie Made Simple. A former "resident baker" on The Alan Titchmarsh Show, Kimber also writes for BBC Good Food magazine and has had his recipes published in The Guardian, Delicious, Sweet Magazine, Marie Claire, Waitrose Magazine and House Beautiful. He also travels the world giving baking demonstrations.
Masterclass: The Secret To Mouth-watering Pastries.
Date: April 29th, 2018.
Raphael Duntoye
 
What He's Known For:  Following a defining 5 years working at the side of Pierre Koffman at the 3 Michelin Star La Tante Claire whom he credits for teaching him how to "really cook", Raphael Duntoye went on to serve as an Executive Sous Chef at Sketch in Mayfair and Senior Sous Chef – Rainer Becker at Japanese restaurant Zuma in Knightsbridge seeing that he was ready to spread his wings and take on new challenges and cuisine. He then joined Butlers Wharf Chef School where he embarked on a journey that led him to become Chef Patron of an award winning kitchen at Le Petite Maison, a popular upscale French Mediterranean restaurant with outlets in London, Dubai, Miami, Hong Kong, Abu Dhabi and Istanbul where he draws inspiration from his travels around the world to adapt  tastes and flavors, whipping up delicious French and Nicoise cuisine.
Masterclass: How To Build A Successful Culinary Career.
Date: May 1st, 2018.
Tony Conigliaro :
What He's Known For: A titan of the UK drink scene, Tony Conigliaro is one of the most dynamic and celebrated creators in the field of molecular mixology with a reputation for innovative reinterpretations of classic drinks, including his takes on the Prairie Oyster and Bloody Mary. His London Bars, the Zetter Townhouse and 69 Colebrooke Row, are frequently garlanded with titles such as "Best Place to Drink" and "World's Best Cocktail Bar". Conigliaro makes use of sound and texture as well as taste and smell while creating his distinctive concoctions which he comes up with at his north London Drink Factory, and has authored a book titled Drinks which is half cocktail recipes and half drink autobiography.
Masterclass: How To Become A Master At Mixology.
Date: May 1st, 2018.
---
GTBank Food & Drink Fair is an annual food exhibition and sales event that aims to project the diverse angles of the food industry by connecting various businesses involved in the production and sale of food related items to a cosmopolitan audience of food enthusiasts.
Date: April 29th, 30th & May 1st, 2018
Time: 10am – 9pm (daily)
Venue: Plot 1, Water Corporation Drive, Oniru, Victoria Island, Lagos